Demi Lovato's new album chronicles her recovery
After four years of taking a break from the music industry, Demi Lovato released an incredibly meaningful album, "Dancing with the Devil …the Art of Starting Over," on April 2.
This 19-track album brings her personal struggles with addiction and recovery to life in a completely new way, and was released alongside her four-part documentary. 
This album is broken up into two parts, with the first three songs,  "Anyone," "Dancing with the Devil" and "ICU (Madison's Lullabye)," making up the first part of the album. This part goes along with the first half of the title, "Dancing with the Devil," and represents her struggle with addiction. Specifically, when she nearly died from a heroin overdose in 2018. 
The remaining 16 tracks go along with the second half of the title, "The Art of Starting Over." These tracks represent Lovato's recovery journey, which she says is far from over. 
All of the tracks on the album are powerful and completely different from anything she has written in the past, even though they still have the pop sound she is known for. 
Lovato wrote all 19 tracks with a few co-writers. Some of these tracks feature other artists including Ariana Grande, Sam Fischer, Noah Cyrus and Saweetie. 
In the documentary, Lovato revealed that she had worked on this album for almost three years before releasing it. She has documented her recovery journey every step of the way since she started it, and shows how difficult her addiction has been, along with how hard it is to relive it. 
The second track on the album, "Dancing with the Devil," highlights the struggle of addiction the most. Lovato sings about "a little red wine" in the first verse and "a little white line" in the second verse and how she felt like she wanted to drink or use drugs every night during this point in her life. In the chorus, she sings "It's so hard to say no when you're dancing with the devil." This line is repeated throughout the track and shows how hard it was for her, and anyone else, to quit their addiction.
"ICU (Madison's Lullabye)," the third track, tells a story of one of the most emotional moments in Lovato's journey. She wrote that this was the most difficult song of the album for her to write because of the emotional meaning behind it. This track is about Lovato's time waking up from her overdose, legally blind and unable to see that her sister, Madison, was standing at her bedside. 
The track "What Other People Say," featuring Sam Fischer, sends a powerful message about not being yourself anymore because you are so focused on how other people see you. In the chorus, Lovato and Fischer sing "I'm better than that," knowing they have changed from the influence of the media and trying to fit in. 
The album closes with a slow, meaningful track, "Good Place." This is the perfect song to end the album with because it shows how Lovato has grown since her overdose. In the chorus, she sings "And with a whole lot of work, whole lot of hurt, whole lot of grace, now I'm in a good place." 
This track puts emphasis on Lovato with a very soft instrumental background, almost as if it is a way to show how she is now focusing on herself. 
"Dancing with the Devil … The Art of Starting Over" is an incredibly powerful and meaningful album that brought Lovato back into music while breaking the silence on her addiction and recovery. You can hear Lovato's emotions in every track on the album through her voice and lyrics.
Follow Samantha on Twitter @SamHBailey.
Leave a Comment
About the Writer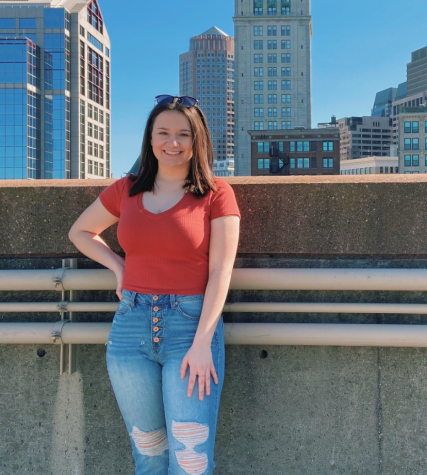 Samantha Bailey, Staff Writer | she/her
Samantha is a junior from Bolton, Conn., majoring in public relations with a minor in political science. Aside from The Journal, she is also a member in the university's Women's Advocacy Club and Rammython organization. In her spare time, she enjoys exploring the city to find a new coffee shop or listening to music. In the future, Samantha plans on traveling and finding a career in a government public affairs office. 
Follow Samantha on Twitter
@samhbailey
.