New documentary shines stark light on the college admission scandal
Netflix's new documentary "Operation Varsity Blues: The College Admissions Scandal," gives viewers an enraging and shocking look into the largest college admissions scam in history. 
In March 2019, more than 50 people were indicted for their roles in cheating on standardized testing and bribing their childrens' way into colleges. The documentary pulls back the curtain on the scheme, showing how rich families and Rick Singer, the mastermind behind it all, got their unqualified kids accepted into prestigious schools.
The scandal has ties to Boston, which is where the FBI first uncovered Singer's scheme after setting up and secretly listening to a conversation at a local hotel.
The documentary has a mix of actors who portray some of the wealthy parents involved in the scheme. It also includes interviews from lawyers involved in the case and people who knew Singer in real life.
The conversations the actors reenact in the documentary are actual phone calls the FBI wire-tapped from Singer's cell phone, which makes the dialogue much more shocking, knowing that those words were spoken in real life. It's appalling to hear how casual everyone was about what they were doing, and eye-opening to know how much money was being thrown around.
Students all over the world work tirelessly to earn good grades and high test scores, hoping for a chance to get accepted into their dream school. Then, there are privileged people — like in this documentary — who are willing to break the law and hand over hundreds of thousands of dollars so their unqualified child can attend a university.
Besides uncovering the scandal, the documentary also touched on important topics, pointing out that higher education has become a "commodity" in recent years, and that both parents and students alike have become fixated on the idea of increasing their "status" by attending an "elite institution." People want the bragging rights of saying that they, or their child, attended an Ivy League or other high-status university. 
There was also discussion about the inequities in college admissions. Standardized tests like the SAT and ACT are usually required to apply, and students whose families can afford to pay for test prep classes and tutors have a huge advantage. It's no secret that rich students score better on standardized tests: standardized testing is a money-making industry.
Disappointingly, the documentary sympathizes with the parents involved in the scandal, chalking up their illegal actions to being done out of the "temptation" of having their child attend an elite institution.
The documentary places a lot of blame on the colleges for having these admissions loopholes in the first place. Some of the interviewees even said that this scandal will benefit colleges, as it will make them look more exclusive and desirable to the elite.
The film left off with an important lesson for college applicants to consider: don't just apply to schools because you want the status and prestige of saying you're a student there.
"Ultimately, where you do go to school has little or no effect on what will happen to you in the future," said Barbara Kalmus, an independent education consultant who was featured in the documentary.
It is certainly frustrating to see such privilege and actions unfold on the screen, but overall, the documentary is very eye-opening and touches on topics that shouldn't go ignored.
"Operation Varsity Blues: The College Admissions Scandal" is now streaming exclusively on Netflix.
Follow Grace on Twitter @GraceM123456.
About the Writer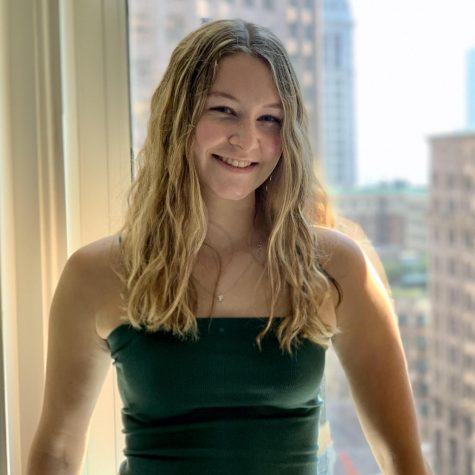 Grace MacDonald, Asst. Copy Editor | she/her
Grace is a sophomore from Seekonk, Massachusetts, majoring in public relations. Besides having a passion for writing, she also enjoys listening to Taylor Swift, watching movies, and exploring the city. She also loves to travel. After graduating, she wants to work for a PR firm or in social media management.
Follow Grace on Twitter
@GraceM123456