Renowned physician speaks on racism in public healthcare during pandemic
Renowned emergency physician Dr. Esther Choo, joined the Boston Public Library and its "Repairing America" series on March 9 to talk about the impacts of racism within the healthcare system.
Choo, who is an associate professor at Brown University and associate director of the school's Division of Sex and Gender in Emergency Medicine, joined Boston Public Library President David Leonard to explore these issues.
Leonard kicked off the session by explaining the library's decision to host this particular series.
"Repairing America as a theme provides us with the opportunity to engage with issues facing our country and to try to bend our arc of history a little more directly towards justice for all," said Leonard.
The series hopes to give a voice to those who have been silenced or had their voices diminished because of the color of their skin.
Choo recalled how racism has affected her personal life as an Asian-American. When the pandemic started, her parents planned to fly and asked if they should wear masks. Choo had to tell them that they should wear them for safety, but to also be prepared for the racist comments that could accompany that seemingly small decision.
Choo also spoke about her experience with seeing racism play out amidst those chosen for the vaccine trials.
"Every factor in the way that this virus spreads, manifests and is deadly, has the potential to add to the kinds of inequities that we have documented over the course of this pandemic," said Choo. "There are just a long string of zeros when you look at racial and ethnic minorities enrolled in that [Moderna phase one] study."
Not only were the trials lacking diversity, but there were instances when patients would go to the hospital with symptoms only to be sent home.
There was a study done, "where they looked at the pulse oximeter and also drew blood at the same time to get a direct measurement of oxygen in your blood and they found that if you're darker skinned, there's a systematic error," said Choo.
This error is one of many gaps in race equity within the healthcare system that Choo noted during the panel. Choo also said she has seen a positive turn within the Biden administration and how it has tackled inequities.
"What does it look like for an institution to be anti-racist? How comprehensive are your efforts? And then, I think importantly, what resources are you putting towards it?" asked Choo.
She explained that the current healthcare system is built on racial bias, and would have to be torn apart to properly uproot the racism that runs through it.
"The problem is really tied to our ultimate mission, which is human lives. Who gets to live, who gets to live longer, who gets to live better?" said Choo. "Who gets to live to their full potential?"
To learn about upcoming "Repairing America" events, click here.
Follow Ashley on Twitter @Ashleyfairchi14
Leave a Comment
About the Contributor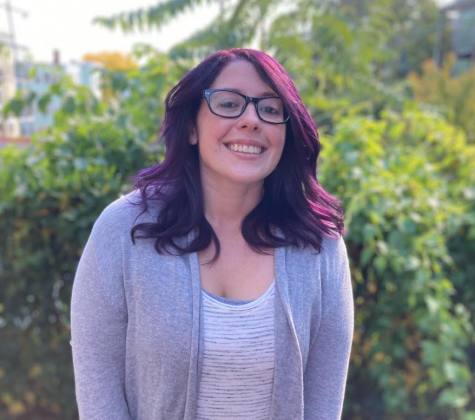 Ashley Fairchild, Asst. Copy Editor | she/her
Ashley
is a senior majoring in print/web Journalism. Outside of Suffolk, she can typically still be found with her nose in a book and her hand wrapped around a coffee mug. She enjoys lifting weights, finding new cafes and most importantly, playing with her dog, Pepper.
Follow Ashley on Twitter @AshleyFairchi14