These are some of the best telenovela villainesses (part two)
They are back and badder than ever! If you thought part one was good, get ready for part two. From psycho girlfriends to very bad friends, this is the very best of the very bad. Here is a list of the best femme fatales that telenovela has introduced the world to. 
Part one of the list can be viewed here.
6. Don Diego Arellano y Mendoza & Doña Juana Arellano vda. de Manrique: "Alborada" (2005-2006)
A mother and son duo on this list must mean that they are wicked to the core. Let's start with Don Diego Arellano and his ruthless and sinister action. From forcing himself on women for his own gratification while killing anyone who challenges him, Don makes life a living hell for anyone who gets in his way. Poor Hipólita de Corsa Díaz Montero de Guzmán, played by Lucero, was caught in his trap. He would do anything to make it worse for her and it showed. 
The true danger with Diego was that he had prestige, money and power, and that made him a threat. He made his mother work double in trying to hide her son's travesty and deception from the aristocats in colonial Spain. Another shocker about him was that he wasn't this high-level Count that people thought he was. His good "mother" adopted him and threw away her nephew when he was born…how lovely! 
Luis Roberto Guzmán played Diego with such conviction and power that you forget that this guy is just playing the character. Did I also mention that he's a killer? Yeah, he killed his servants and tried to kill the real count of Guevara Luis Manrique y Arellano, played by Fernando Colunga. He was vindictive and cruel. But he was also bat-crap crazy! It was his untreatable syphilis, and his manic behavior, that was too much for his dear mother (that word is used loosely). She had to poison her own "son." 
We could end this list with just him, but his dear mother Juana has to take the blame as well. She was just as bad for giving away her nephew, Guevara, and replacing him with a sociopath. She would blackmail, arrest and even kill to make sure her secret was safe. Her son was nothing but trouble for her. But she loved him to death, literally. In the end, she had to put her son down like the dog he was and she also had to drink the poison. 
The fantastic Daniela Romo played this devilish and horrid woman. This sophisticated aristocrat and her deviant monster of a "son" is something awful to see. So, if this was the best of both evils, no one would want any of them. Karma did the right thing by taking them both out together: mother and son. 
5. Irene del Conde / Lucrecia Treviño: "The Strange Return of Diana Salazar" (1988)
Okay, now let me break this down to you the best way I can as to why Irene del Conde and Lucrecia Trevino, played by the terrific Alma Muriel, is one of the most complex but ruthless villainesses on this list. Picture this: Zacatecas, New Spain, 1640. A beautiful young girl by the name of Leonor de Santiago, played by the beautiful Lucia Mendez, is now engaged to her true love named Eduardo Carbajal. Everything is going smoothly despite the fact that Leonor has magic powers that she fears, but then you have Lucrecia Treviño, who is Leonor's rival because she's also in love with Eduardo Carbajal. 
Lucrecia is willing to do anything to get her out of the way. So, she made Leonor so mad during her engagement party that she used her powers to crash a chandelier. Welp, she condemns her as a witch and everything went up in flames – literally. But Lucrecia lost her lover who was also burnt at the stake along with her rival! Epic fail! So she was left with nothing and died alone, another epic fail!
Fast forward to Mexico City 1988, and we are now introduced to Dr. Irene del Conde, who is treating a very young and beautiful patient named Diana Salazar for having dreams of being burned alive. She experiments on Diana and tries to make her self-doubt her own sanity. Then the shocking twist is revealed to the audience is that Dr. Irene del Conde is the reincarnation of Lucrecia, and Diana is the reincarnation of Leonor.
Now she is going to try and get rid of her again! Just to get Mario Villareal for herself. She also found out that Mario is also a reincarnation of her lost love Eduardo! But karma worked two times (or three, depending on who you ask) as she was killed by Diana/Leonor out of revenge in the present and then went back in time to only be burn at the stake as a witch, while Leonor and Eduardo are free and finally get to live happily ever after. Whew!
4. Leonela Villarreal: "Rosa Salvaje" (1987-1988)
Now this is one very bad rich girl who is played by two great Mexican actresses. Leonela Villarreal was originally played by Edith González and then later on in the series, she was replaced with Felicia Mercado. González was replaced because she got the part to play Countess Monica in the remake of the 1978 soap, "Corazón Salvaje," in 1993.
No matter who played this witch,  Leonela looked down on Rosa Garcia for her upbringing as living in the slums. She even tried to make it look like she has more class than her. She also tried to break up a marriage between Rosa and Ricardo, played by Guillermo Capetillo, showing that she was willing to go this distance for love. 
Now a pop quiz! Leonela just found out that Ricardo has broken up with her and decided to go back to Rosa. She is furious to no end, and then finds out that Rosa's real mother is a famous fashion designer and has more money than her. What did she do when she saw Rosa walking across the street?
Ignore her and just drive off

Get out of the car and slap her across the face and have a fight

Run her over with her car
If you answered "C," then you are a true telenovela fan like me! She is the ultimate version of what a mean girl is really like and how she was nothing more than a brat, who used force to get what she wanted. Too bad karma rammed right into her car in a blaze of flames…but the train did it better. 
Overall, she was the typical spoiled rich girl, who wouldn't stop at nothing to get what she wants. Whether we like it or not, Felicia Mercado was a better fit at playing this spoiled brat.
3. Roxana Brito de la O/Carolina Vallejo: "Amigas Y Rivales" (2001)
If you want to know someone who is downright crazy and cruel in one person, Ms. Roxana Brito de la O is that woman. I can't think of a more mean-hearted person than her. Her pure jealousy for her friends (I use that term very loosely) and how she is the second wife from hell proves that. 
She is married to a kind old man named Don Roberto. While she never loved him, she did love his wealth and definitely used him for it. She was so wicked that she even had an affair with his son Roberto! The shock was so much for him that he had a stroke. A home-wrecker, indeed.
She is so intriguing that even her name, Roxana, isn't even her real one… it is actually Carolina Vallejo, and she was sent away to an asylum by her father because of her psychotic behavior. Now that she was released, she is out to try and remove her father from her life one way or another. 
Joana Benedek brought her character to a new level of evil, to the point of her character being the very best. But she also showed her background and why she is what she is: a merciful, vindictive, wicked and shameful type of woman. 
The final straw of her wicked act was her attempt of trying to disfigure one of the heroines named Jimena de la O Terán, played by Ludwika Paleta, at her graduation party by throwing acid in her face. All because Roberto realized what a psycho and a wicked woman she really was. He fell in love with Jimena's friend Laura, who wasn't even at the party, so Roxana would take her vengeance out on Jimena.
It would have been a terrible end for Jimena, but thanks to the quick thinking of her friends, they managed to prevent Roxana from throwing acid in Jimena's face. But karma came to the party and the acid was tossed back into Roxana's face. 
I can't show you the aftermath on this list, but Google her name and you can thank me later. She was also sent to the asylum to live the rest of her life scared from the inside and outside. All in all, this little lady was nothing but big trouble.
2. Soraya Montenegro: "Maria La Del Barrio" (1995-1996)
Soraya, Soraya, Soraya! To the internet, she is known as the new meme queen for all of her facial expressions and has even been turned into a gif. She became more popular during the 2020 election and her freakouts are stuff of legends. 
Especially the scene in the telenovela, where she went into a meltdown over her step daughter falling in love with her young lover. It had been dubbed, spoofed, even mocked in some shows by Itatí Cantoral, the actress who played this vixen. 
But to telenovela fans and mega fans of "Maria la del Barrio," she is as cruel as she is beautiful; a cruel rich girl who was used to getting everything she wants. She was so jealous of Maria, played by Thaila, because of her humbleness, sweet and energetic persona, that she managed to win the heart of Luis Fernando. 
Soraya was not pleased, and decided to handle the problem by lying to Fernando's wealthy family, saying she's having his baby even though she wasn't really pregnant. 
It worked. She managed to marry him and left Maria in the dust. But it didn't last long, since Luis found out the truth to Soraya's scheme. Well, that did stop her from trying to get rid of Maria once and for all. 
From trying to poison her to getting locked up in prison for a crime she didn't commit, to even taking in her young son as her lover!  But in the end, all of her actions lead to an epic showdown between Maria and Soraya, with one of them being lit on fire. Spoiler: Maria lived. 
Like I said before, and like I will say again, Soraya's meltdowns and overreacting to situations are downright funny and weird at the same time. But her actions are nothing more but malicious, cruel and harmful. She was nothing but a vicious woman, and boy did she go out in a blazing glory of shame. 
1. Catalina Creel: "Cuna de Lobos" (1986)
Ladies and gentlemen, we have the queen of mean, mistress of evil and the original term of  "mother from hell." Just the name itself strikes to the very core of all telenovela fans. She is the blueprint, foundation and the house that some of these villineses live in. The late and great Maria Rubio played her most famous character with such conviction and made it so believable to the very end that people actually thought she was that person.
Catalina Creel was the wife of a very wealthy man named Carlos Larios. She would do anything to save her legacy for her family, especially for her favorite son, Alejandro Larios Creel, played by Alejandro Camacho. 
She saves all of her love for Alejandro, and torments her oldest son, José Carlos Larios Creel, played by Gonzalo Vega. By tormenting him about that day when he was a child, he caused her to go blind in one eye, which turned out to be a lie, and the shocking part is that she's not his real mother. Once Carlos found out that Catalina was not blind and was lying to him, the best way for her to keep her lavious life afloat was to kill off her husband and anyone that came in her way.  
She also tried to steal a woman's baby and then made her young son's wife, Vilma de la Fuente de Larios, played by Rebecca Jones, the primary heir to the will since she can't have a baby. The baby's real mother, named Leonora Navarro de Larios, played by Diana Bracho, is the poor victim that is put through the ringer alongside Carlos, and let's not talk about the amount of people she killed throughout the series. She went so far as to kill her favorite son and his wife in a plane crash to make it look like a terrible accident.
Karma didn't take her out. Instead, she took her own self out when she spiked her orange juice with poison. Vitamin C with a hint of poison. All in all, anytime there's an evil mother figure in a telenovela, she gets the "Catalina Creel" cut. Any time there is a spoof of a telenovela or just a comedic sketch and they introduce the "evil mother" in the show, it's referring to her. Best believe the eye patch, the pinup do and the overdone speeches of vengeance all come back to Catalina Creel. 
If there was a Mount Rushmore of villains in soap operas in general, she would be up there with the likes of J.R Ewing ("Dallas,") Alexis Carringtion Colby ("Dynasty") and Erica Kane ("All My Children"). Her famous line in the series, "Sigo siendo la reina de la manada," or in translation, "I continue to be the queen of the pack!" is why she is the queen on this list, the baddest of the bad!
Leave a Comment
About the Writer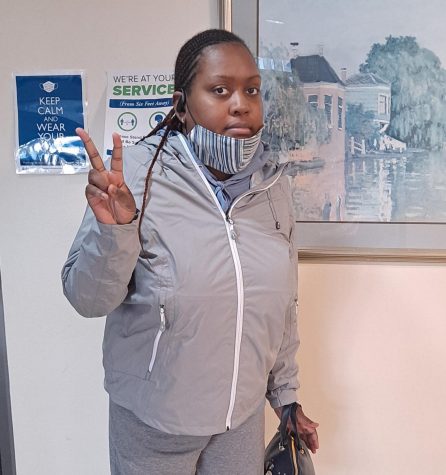 Imani Hill, Graduate Contributor | she/her
Imani Hill is a blogger, YouTuber, Instagramer and a wannabe comedian. She is very passionate about theater, films and TV shows. Imani is in Suffolk's master program with a major in global public policy (dual degree). She loves to travel and try new things, and she is living her life one day at a time.
Follow her on Twitter
@Joyqueen
.