Opinion: The silver lining in the pandemic– mental illness awareness
One of the silver linings of COVID-19 is the visible increase in the recognition of mental health, a struggle that has been slowly rising for decades. Social media platforms are now overflowing with support from therapists, yoga instructors and mental illness survivors, telling their stories and offering support. 
The isolation and distance that is necessary to keep the pandemic under control can be incredibly harmful to most people, especially those who already suffer from mental illness. At the same time, these restrictions allow for more free time to focus on self-care and to give your personal wellness the attention it deserves. 
The extra time in the day that was once devoted to social gatherings or commutes can now be set aside to take care of ourselves. We are no longer constantly surrounded by people with a schedule that keeps us running from one meeting to the next—our thoughts only on the task we need to complete next. Now, we are experiencing boredom that can spark a light to not only discover who we are but how we can help ourselves. 
According to Cleveland Clinic, "It is important to evaluate your overall lifestyle when encountering stress." The clinic lists exercising, eating balanced meals, sleeping enough and practicing mindfulness as healthy coping mechanisms for stress. 
I have seen these habits forming. Now, there is more time to cook a healthy meal, get the sleep your body needs and reflect on your situation and emotions. 
The time we get to spend with friends and family is unfortunately rare as a result of social distancing. Now, we can take the time to realize how precious those moments are, and truly enjoy the time we have together. 
According to the Centers for Disease Control and Prevention (CDC), taking time to unwind and connecting, in person or virtually, with friends and family are two of the most important ways to take care of your mental health in a pandemic. 
COVID-19 has resulted in the creation of a community that supports each other. Now more than ever, we are aware that everyone else is in the same situation and is going through the same struggles. This awareness is encouraging kindness and realization of others' situations. 
I have witnessed people giving flowers to their cashier in the grocery store to thank them for working. I have seen health care workers and first responders all around the world being celebrated for the sacrifices they make each day. 
The pandemic has caused a cultural reset throughout the world. Within society, there is more attention put on what is happening around us and inside of us. Social media has given people an outlet to talk about the common mental struggles the majority of the population experiences. Taking the time to take care of ourselves mentally has been rightfully prioritized. 
We are normalizing the discussion of mental illness, and in turn, creating a safe and open environment where we want to help each other and ourselves. On social media platforms, users are down to earth and truthful about the struggles they face each day. It gives the message that nobody is perfect and happy all the time. It is normal to have bad days.  
The transparency of mental health on social media also shows that mental illness is normal. It does not make you weak or a worse person. That realization is an important step towards working to help your mental health. 
In every terrible situation, there is a silver lining. During the pandemic, the silver lining is the extra time that we have in our day that was once dedicated to rushing through our lives. Using that time to take care of ourselves and each other will keep our bodies and our minds healthy in a time when health is of the utmost importance. 
Leave a Comment
About the Writer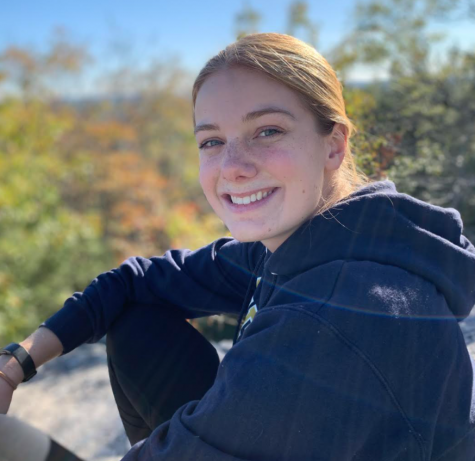 Alida Benoit, Asst. Arts & Culture Editor | she/her
Alida is a sophomore Graphic Design major from Brunswick, Maine. Her passions include reading, writing, listening to music, and playing with her dog, Sirius Black. After graduation, she hopes to work for a publishing company and travel the world.

Follow Alida on Twitter @AlidaBenoit