Ring in the Chinese Lunar New Year with these five Hong Kong films
In the spirit of celebrating the Lunar New Year and the Year of the Ox, here's a top five list of some of the best Hong Kong films you have to see right away. From great epic dramas to modern masterpieces, these must-see movies are something that you can find on any website, streaming service or on YouTube (and are some of the most famous Hong Kong films in the past decade). Now let us get on with the list! 
5. "The Blue and The Black Part 1 & Part 2" (1966) 
I know that this might come off as cheating by putting a film series in the top five, but how can you deny such a powerful performance by the late Lin Dai, who played a young girl named Tang Qi.
Her life is told in such joy, heartbreak and hopelessness. She falls in love with Zhang Xingya, a young teacher played by Kwan Shan. 
The two main characters are tossed into a struggle of social class, family reputations and a growing war against the Japanese army. 
Also, part one and two were based on the best selling book of the same name written by Wong Lam. Some critics have even compared this film and the sequel to "Gone with the Wind."
The great actors and actresses play their parts well. From Kwan to Angela Yu Chien, they made viewers invested in the drama of what is going to happen. 
But it doesn't stop there, part 2 is when the tear-jerking starts. Zhang is now studying in a college and has caught the eye of a warlord's spoiled daughter, played perfectly by Pat Ting Hung. Lin was not seen very much through the film because she passed away one year before part one was finished. They had to use a body double to fill in some of her scenes. This film is considered to be the glowing gem of HK cinema; the reason why these two films need to be together on the list. 
4. "Chinese Ghost Story" (1987)
Joey Wong, Lau Siu-Ming and Wu Ma make up a great cast of heroes and one bad villain. 
In this horror-comedy for the HK Cinema fans, Cheung plays a hopeless tax collector named Lin Choi San, who is going across the countryside trying to collect money. He stumbles across an abandoned mansion, where the former residents are very displeased with his arrival. While he's there, he meets a beautiful, yet mysterious girl named Lip Siu Sin, played by Wong. 
He thinks he found the one, but all is not what it seems. A  monk named Yin Chek Hsia, played by Wu, is trying to save Lin from a dark force while also trying to save Siu Sin from the Tree Devil. 
This is a good film to watch if you are new to HK cinema. Director Ching Sin-Tung manages to mix action, horror, comedy and romance without any problem. 
The audience at the time found it to be such a masterpiece. The film was so successful it made two sequels, and a reboot in 2011. But none of them could be compared to the very first. 
3. "Happy Together" (1997) 
Don't let the title fool you. This film is very interesting and sad in terms of love lost, temptation and harsh reality. 
This film is from the brilliant mind of director Wong Kar-wai, who is best known for his work "In the Mood for Love," "Days of Being Wild" and "Ashes of Time." This is considered to be one of his best works and one  hat brought LGBTQ relationships into HK cinema. At the time this was released, it was praised and recognized as a masterpiece on screen. 
This is a cautionary tale about relationships, heartbreak and trying to find oneself. 
Tony Leung and Leslie Cheung play a gay couple who are on a road trip to Argentina. Their trip causes a deep crack in their relationship. Cheung's wild and bold performance as Ho Po-wing shows him as a flirtatious, wild and passionate man, who can't be tamed nor can be held back. 
Leung plays Lai Yiu-fai, a very simple yet confident man, who is trying to save a broken connection between him and Ho. But the film shows the hidden passion and distant relation of two people who have a difficult understanding of how they are hurting each other. 
The film won numerous awards during its release. Wong won the best director award at the 1997 Cannes Film Festival and the 1998 Golden Bauhinia award. Leung won the award for best actor. 
This is one of those top classic films of modern cinema that is still talked about to this day. 
2. "Kung Fu Hustle" (2004) 
Add cartoon artist Tex Avery and the element of Looney Toons cartoons, slap in some Charlie Chaplin and Buster Keaton movies and put in some old Shaw Brothers' karate films, along with a little bit of musical taste, and you have one madcap of a film that works wonders.
The movie is directed by the one and only Stephen Chow, who is known for his slapstick comedies and his directing style of silliness and spoofs of other movies, especially Bruce Lee's films. Chow not only directed and produced this film, but he also played Sing, a wannabe gangster in 1940s Shanghai who is trying to join the ruthless Axe Gang. 
With his somewhat trusty sidekick named Bone, they go up against a tough gangster, a chain-smoking landlady and her womanizer husband, and his unlucky streak. Sing also falls in love  with a young, beautiful candy cane seller named Fong, who is played by Huang Shengyi. 
This movie is impossible not to laugh at. With some legendary martial artists from the Shaw Brother era showing their comic chops and their skills, and Yuen Qiu's performance as the tough-as-nails landlady, along with Yuen Wah as her lazy husband, the action is at an all-time high and the laughter just keeps on coming. 
This movie was a crowd pleaser and it's something that can't be repeated if tried. But with rumors of a potential sequel, people will be excited to see it once again. Until then, grab your friends or family and put this film on; this is one awesome watch.
1. "A Better Tomorrow" (1986)
The legendary HK director John Woo created a type of film genre that includes tension, melodramatic storyline and characters that are usually looked down upon by regular viewers. 
But Woo changed that narrative and made us feel sorry at the same time and fear the consequence of their actions. 
This is one of his most famous works along with "The Killer." Chow Yun-Fat plays one of his most famous roles as Mark Gor. Gor is one of the former members of the triad gang who is trying to break loose from his past.
Along the way, his friendship with a fellow gangster named Sung Tse-Ho, is put to the test when Sung takes the fall in a shootout and Gor is shot and injured. Once Sung is released from jail, he tries to reconnect with his young brother named Kit, who is now a rookie cop who wants nothing to do with his brother. The role of Kit, played by Leslie Cheung, was considered to be one of the best performances in his career. 
The toll of the broken relationship is put into more turmoil when Gor and Sung's former boss wants to bring up their past to destroy their future. The drama between the three men and the chaos that follows them to the very end is something that can't be repeated. 
This film was the biggest blockbuster hit of the summer in 1986. The film brought in a new wave of HK cinema that changed the perspective to show that there is a gray side to good and bad. 
The film also spawned two sequels that were also blockbuster hits, with the main theme song "Love of the Past," sung by Leslie Chung, being considered one of his finest works. Several references and styles that are influenced by this film in movies, TV shows, even in music. Wu-Tang Clan also named their 10th anniversary album after this movie. 
The film is recognized as a brave work of art and is never dismissed as just another action film. With all that being said and done, this is the reason why this "A Better Tomorrow" is number one on this list.
Follow Imani on Twitter @joyqueen.
Leave a Comment
About the Contributor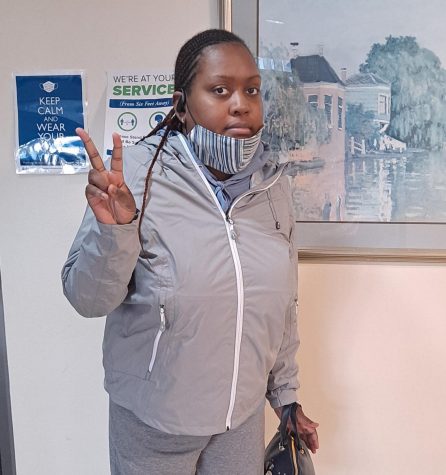 Imani Hill, Graduate Contributor | she/her
Imani Hill is a blogger, YouTuber, Instagramer and a wannabe comedian. She is very passionate about theater, films and TV shows. Imani is in Suffolk's master program with a major in global public policy (dual degree). She loves to travel and try new things, and she is living her life one day at a time.
Follow her on Twitter
@Joyqueen
.