Go Pixel Yourself provides a unique, interactive experience for the Boston area
After a long closure due to COVID-19, Go Pixel Yourself, a selfie museum in Cambridge, has finally reopened its doors to social media and photography fanatics.
The museum, located on the second floor inside the shopping center CambridgeSide, features 13 different themed rooms with props, furniture and approximately 20 huge video screens with a total of 9 million pixels for guests to take pictures and videos with.
Go Pixel Yourself had been scheduled to open in April of 2020 when the pandemic hit, forcing it to stay closed until the end of November. Less than a month after opening, COVID-19 restrictions were tightened, meaning the museum had to close again until Feb. 12.
John Carter, the CEO of Parker 3D, a design company that creates tech-savvy entertainment events, explained that he and his staff had to make some changes to the museum in order to make it COVID safe before it could open.
For starters, there are many interactive cameras placed throughout the museum that guests can use to take photos and videos with, in addition to using their own photography equipment or their phones. The cameras were originally touch screens, but Carter and his team changed them so that the cameras would scan a QR code in order to take the picture, minimizing touch points.
Only one party is allowed in a room at a time, so there is no mingling with other guests. Guests are also required to wear masks unless they are taking a photo or video, and each room is sanitized after they leave.
There are a variety of unique sets to create content with, from the inside of an airplane to a paparazzi red carpet and aesthetic walls with neon lights signage. The sets are also constantly changing, so guests can return and take photos and videos in completely re-done rooms.
Go Pixel Yourself has drawn in some of the most creative people from around the area, who are inspired by the fun rooms and the freedom to do whatever they want in them.
"Everyone who comes in here makes it their own story. That's the most fun," Carter said. "The arts community really has been our first customers."
People have come in to shoot music videos, make TikToks, film commercials, or simply just to take some fun photos, Carter said.
When a guest arrives, they are set up with a unique QR code on a lanyard, which you can take around the museum with you and scan at different touchless cameras in order to take self-timer pictures. 
You give your email address when being set up, so all of the photos and videos you take with the touchless cameras will be compiled under one link which is sent to your email. This makes it super easy to download all of the content you've created.
After the initial setup, guests are pretty much free to move throughout the rooms as they please and take as many photos or videos as they'd like. The museum allows, and encourages people to be as creative as they'd like.
Go Pixel Yourself brings a very unique experience to Boston for an affordable price, with access to essentially 13 different sets for just $30 per person and the ability to create an infinite amount of content.
It's definitely worth a visit, so grab some friends and buy your tickets.
Follow Grace on Twitter @GraceM123456.
About the Contributor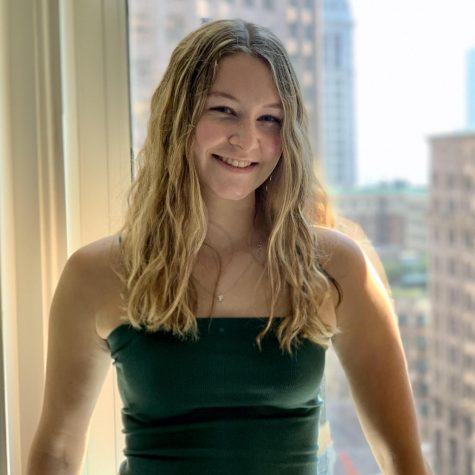 Grace MacDonald, Asst. Copy Editor | she/her
Grace is a sophomore from Seekonk, Massachusetts, majoring in public relations. Besides having a passion for writing, she also enjoys listening to Taylor Swift, watching movies, and exploring the city. She also loves to travel. After graduating, she wants to work for a PR firm or in social media management.
Follow Grace on Twitter
@GraceM123456