The Boston Globe is showcasing an array of new and classic films that celebrates Black culture and experiences as part of the paper's Black History Month Film Festival.
The documentary "Black Boys," directed by Sonia Lowman, was featured during the festival on Feb. 11. This 90-minute documentary explores the inter-generational toll that racism takes on the body, mind, voice and heart of Black boys. 
"The two thoughts of ours were how do you break this up into digestible content that's not too crazy heavy, but at the same time really illuminating humanity," said Chad Williamson, the producer of the film, during a discussion that followed the screening.
The documentary seamlessly blends heartfelt and vulnerable discussions from athletes, educators, activists, musicians and students about what it means to be a Black male in America, all while highlighting their resilience.
"The reason why we wanted to have Black men speaking out about their experiences is because these Black men you see at one point, they were a boy, and a lot of them lost their innocence in the process of just doing small things like going to school," said film producer Jon-Thomas Royston during the discussion.
The film also talks about the glamorization of Black bodies in professional sports and how it's rooted in slavery. 
"There were all these things done to Black bodies for white entertainment and that was a tradition that manifested its way through sports," said sports journalist Jemele Hill in the film.
Former football player Greg Scruggs discussed how sports can be seen as the only path for success in the eyes of young Black boys, and that these boys should be encouraged to pursue alternate paths. 
"Now I can work with young men and women who might be at the same crosswords I was of do I focus more on my athletics or do I focus more on my education," Scruggs said about his new career as a coach.
In one powerful moment, footage of a football game was intercut with a video of a dancer twirling in a field of cotton, symbolizing how the obsession for fit, Black bodies originated during slavery.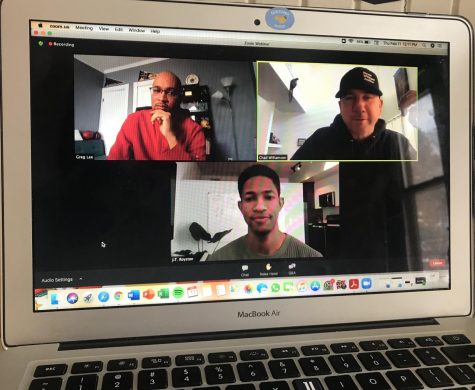 An image also showed Patriots owner Robert Kraft on a podium in front of all Black players, emphasizing the documentary's point that there are zero Black owners in the NFL. This reinforces the idea that white people like sports because Black aggression sells, as said by journalist Howard Bryant in the documentary.
"Today's Black body is a multi-billion dollar enterprise," Bryant said.
Viewers were then shown the Mastery Charter School in West Philadelphia, where 95% of the students are Black. The principal of the school, Sharif El-Mekki, emphasized how important it is for these students to have positive role models in a world where only 2% of educators are Black men. 
According to the documentary, school districts serving students of color receive $1,800 less per student. The consequences of this can be seen in national unemployment rates and in the criminal justice system. This makes it important for there to be teachers of color eager to help guide Black boys and to make them feel valued. 
"We need kids of color to see educators of color, but we also need white kids to see educators of color leading in their schools," said John King Jr., former U.S. Secretary of Education. 
Later on, the film reflects on activism and protests surrounding police violence and looks at emotional vulnerability in Black men.
In one intimate scene, a group of young boys bonded over their connection to the "Black Panther" movie. One of the boys also gushed about how he cried at the ending of the Disney movie "Coco."
It's also important to note that the director is white, but she listened to each story with respect and awareness of her white gaze, especially as one man confessed how much it hurts when he receives racist reactions from white women on a daily basis.
"How do you cross the political divide, the racial divide? You have to listen to people's experiences," said Williamson, who is also white. 
Williamson also noted his privilege later on in the discussion and how his race and connections helped him to get funding for this documentary. 
"There was an advantage, which I'm sure there will continue to be until we start to be honest about those systems," Williamson said. 
Williamson and Royston are in the process of making educational resources about the film and are interested in creating a documentary from the perspective of Black women.
Overall, this was a remarkable documentary that dove into exploring the trials of Black men in a country that isn't always willing to listen to or acknowledge them. The variety of stories were deeply-moving and added extra depth to the documentary by sharing the perspectives of both young and old Black men. 
"Black Boys" should be another film to add to your anti-racist watchlist. It can be streamed for free on Peacock.
Follow Sarah on Twitter @thesarahdipity.