Boston University junior and Bronx-based rap artist, Jerry Neequaye, is taking his rap game to melodic heights with the release of his new single "Mad Max."
Neequaye, who goes by the stage name $cary Jerry, released the infectious "Mad Max" to all streaming platforms on Jan. 31 as part of his $cary Sunday singles tradition.
$cary Jerry started this tradition last semester, but he's no longer planning to release new music every week during the semester. But when he does drop a new single, expect it to be on a Sunday.
"[$cary Sunday] gave me a way to show my consistency, while constantly connecting with my listeners," $cary Jerry said. "The tradition started at the beginning of October, since Halloween was at the end of the month and it related to my name."
$cary Jerry also dropped a music video for "Mad Max" on the same day as the single's release, which was directed by videographer, Benregulr. The energetic and upbeat music video was filmed around the Black Falcon Pier in the Boston Seaport District and features the rapper sitting in shiny sports cars, dancing with his friends and electric video effects.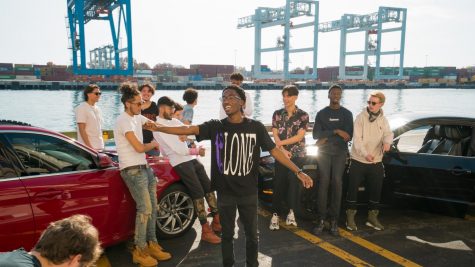 "Mad Max," which takes inspiration from the popular sci-fi movie of the same name, uses alliteration to draw the listener into the futuristic and chill vibe of the song. It's catchy, and you won't be able to stop singing to yourself even after the first listen. 
$cary Jerry is originally from the Bronx. He said he would dream up his future in music on the two-hour ride on public transit to his Brooklyn school. 
"The train and bus rides gave me the perfect opportunity to discover and learn lots of new music," the musician said. "My biggest inspiration when creating music is to make something I've never made before."
$cary Jerry also said New York rap is more raw, bold and aggressive than the Boston music scene due to the high amount of rappers in the Big Apple, especially since Boston has fewer rap artists.
Since moving to Boston to study computer engineering at BU, he has expanded his reach in the Boston rap scene by performing at house parties before the COVID-19 pandemic, and he continues collaborating with local artists. 
"I'm hoping to start looking bigger once things get better," $cary Jerry said.
$cary Jerry also adds that he has yet to do a livestream show during the pandemic, but he has had more time to focus and improve his music while planning a couple of live internet events for the future. 
"In these times it's nice to have something I'm excited about to work on since I don't get to spend too much time outside," he said. 
In the coming months, $cary Jerry's fans can expect new singles on some Sundays, more music videos and collaborations with other artists, which will all lead up to his first EP album. 
For more $cary Jerry content, follow him on Instagram @thescaryjerry and on Twitter @iamscaryjerry. 
Fans can listen to "Mad Max" and his other cheerful anthems on all streaming platforms.
Follow Sarah on Twitter @thesarahdipity.