Somerville's Winter Market tackles COVID-19 restrictions with ease
Somerville residents lined up at the Highland Avenue Armory on Saturday to shop for a wide array of fresh products at the weekly winter farmers market. 
Vendors can be seen selling items such as  fresh vegetables, eggs and cheeses, kombucha, ice cream and freshly roasted coffee. Each stall offered a different take on what the residents of Somerville might need. 
The market, originally comprised of over 40 vendors, has a rotating schedule that allows 15 vendors to sell their products at a time. 
Even though fewer vendors can be in the space at the same time, Soluna Garden Farms, a stall that sells teas, meat rubs and lavender satchels, has seen more business because of COVID-19.
"We had to close our physical location in the Boston Public Market for six months; the web sales went through the roof. We went about 150% up from last year — the holidays were an ordering frenzy," said Nick Stewart.
Stewart also noted that Soluna already had a strong customer base prior to the pandemic and that customers supported them through times when other businesses were struggling. 
"It did open up time for us to focus on our web and social media," said Stewart. 
The market has also gone more digital during the pandemic. Customers have the option of shopping in person, or ordering from the WhatsGood app, which allows customers to connect with local farmers in the area and has options for either indoor or curbside pickup. The curbside pickup is in place for seniors, immunocompromised residents and other high risk shoppers.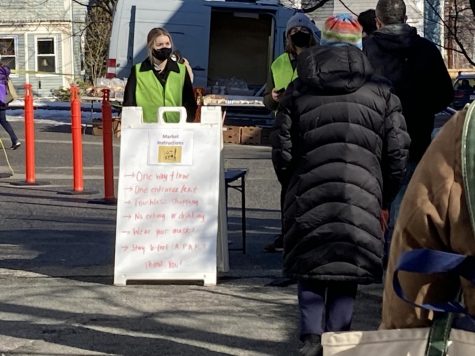 The capacity of the market is currently at a 50-person maximum. Though this does mean a short wait in line, it ensures that customers and vendors can maintain social distancing requirements while still enjoying the experience of the market. 
The COVID-19 guidelines are posted on the farmers market website. Shoppers are instructed to stay home if feeling unwell, maintain a six-foot distance, let vendors handle all products, follow the one way flow of the market and to leave all pets at home. 
Other vendors at the market have also come to accept the new normal of COVID-19 and how the market is now structured. 
"I have these signs that have each ingredient listed now. We can't do tastings or samplings, but the customers like the ease of it," said Suman Shah, who runs a stall called Fork on a Road.
Shah, a Suffolk University alumnus, offers vegan and vegetarian meal kits that utilize the vegetables and ingredients that other vendors have in the stalls around her own. Her meal kits include the spices needed for each recipe, as she joked that no one wanted bottles of spices laying around. Shah also offers Zoom cooking classes. 
Another stall, Mocha Connection, outsources their coffee beans from Yemen and roasts them in Boston. The owners work together with the suppliers to combat Qat, a plant that is chewed on and highly addictive, in Yemen, noting proceeds go towards their cause. 
"All of us have jobs we go to during the week, but we are connected to the cause," said Nishreen Mahesri, Mocha Connection's managing partner, about the vendors at the market. 
The market will run from 10 a.m. to 1 p.m. until April 10 at 191 Highland Ave. in Somerville. 
Follow Ashley on Twitter @AshleyFairchi14.
Leave a Comment
About the Contributor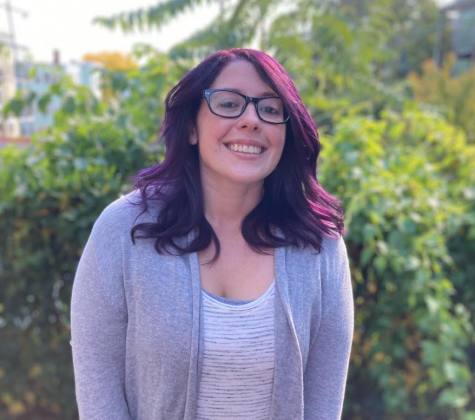 Ashley Fairchild, Asst. Copy Editor | she/her
Ashley
is a senior majoring in print/web Journalism. Outside of Suffolk, she can typically still be found with her nose in a book and her hand wrapped around a coffee mug. She enjoys lifting weights, finding new cafes and most importantly, playing with her dog, Pepper.
Follow Ashley on Twitter @AshleyFairchi14