For those who are in need of art inspiration, The Portrait Princess is a new Instagram account created by Suffolk University senior Olivia Lapolla as part of Portrait in a Minute, a project for the College of Arts and Sciences Honors Program. 
"The goal of Portrait in a Minute is to break down art history into digestible chunks for people who don't study art history to understand and learn about it, and it's quick," Lapolla said.
Lapolla posts photos of art daily, mainly focusing on 18th century European art. Each post includes the portrait title, dates and location of where it was created and a paragraph providing interesting facts about the historical background and artist.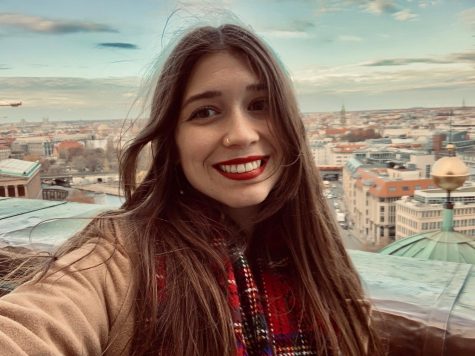 Lapolla also utilizes the story feature to post specific geographic regions of art, like British art and Dutch art. She also posts art history quizzes for her followers to test their knowledge, which she said can take up to an hour to create.  
On top of this being a CAS honors project, this account is also a way for Lapolla, who is a law major, to stand out when applying to graduate schools to pursue her doctorate in art history. 
"I do plug that in my applications and I think that helps schools get a better grasp of who I am and what I do," she said. 
Even though Lapolla will graduate in the spring with a bachelor's degree in law, she is still finding a way to combine law and art history on top of taking a few art history classes. She has also taken art classes at Suffolk and abroad in Ireland and Rome. 
Lapolla recently replaced her upcoming paralegal internship with an independent study that encomposses both disciplines. She will work alongside Suffolk world language professor Barbara Abrams by doing research on legal proceedings for women in 18th century France. 
Portrait in a Minute was originally going to be an art blog, but Lapolla saw it best as an interactive and accessible Instagram account. 
"I started the account for my own personal enjoyment just because I wanted a place to keep all my favorite portraits and a place to write little blurbs about them so that I remember them," Lapolla said. 
Lapolla added that her art history knowledge has mostly been acquired independently by doing research for her account. If she learns about a portrait in class, she will most likely post it. 
"It's an awesome way for me to discover new artists and learn about different time periods," she said. 
Lapolla's 125 followers even include tour guides from as far as Paris and architects from London.
Suffolk students have also joined in on Lapolla's compact art history lesson and have messaged her about how much they love it. One student has even taken Lapolla's quizzes in order to prepare for their art history exams. 
For now, Lapolla wants the account to grow and continue to reach more people. 
After Suffolk, Lapolla plans to attend graduate school in either the United States or United Kingdom. She hopes to write about art history and her process applying to school for the honors bi-annual magazine.
Portrait in a Minute can be followed on Instagram @the.portrait.princess  by anyone who wants to learn more about art history, or if you just need a daily escape from reality into the world of European art.
Follow Sarah on Twitter @thesarahdipity.