Opinion: Stay home and do your Black Friday shopping online instead
In any normal year, millions of people would be hitting the crowded malls during the early hours of the morning on the day after Thanksgiving for the busiest shopping day of the year – Black Friday. 
Billions of dollars are spent every year on Black Friday. Many look to get all of their Christmas shopping done in one trip on the day with the best prices of the season.
However, this year is not a normal year. With COVID-19 cases on the rise in all 50 states, people should skip Black Friday and do their shopping online instead.
The dramatic surge in COVID-19 cases in the U.S. is very alarming and it becomes clearer and clearer every day that we have a very dark winter ahead of us. At this point, going into a crowded store for holiday deals, even if you wear a mask and take other safety precautions, is very dangerous.
Across the U.S., governors are re-imposing restrictions to prevent rapid spread. The Centers for Disease Control and Prevention (CDC) updated its guidelines for celebrating Thanksgiving, now urging Americans to stay home and skip get-togethers with people from outside of their household.
These guidelines shouldn't only be followed on Thanksgiving – shoppers should stay home on Black Friday too. The last thing the country needs are eager shoppers packed into enclosed spaces with hundreds of strangers who could potentially infect each other. 
If this Friday looked like the typical Black Friday, it would likely become a super spreader event. Shoppers visit many stores throughout this day, meaning they interact with a whole different group of strangers in each store. If one is infected, they could spread it to hundreds, or even thousands, of other people.
Fortunately, in recent years, as online shopping has risen in popularity, many Black Friday deals have become available online as well. In fact, many retail sites have already launched their holiday deals this year. Practically any website you visit right now already has a sale going on.
Online shopping is the safest option this year. 
COVID-19 is extremely widespread. There is no way to know if the people around you are taking the proper safety precautions. The shopper behind you in the checkout line might've just left a huge Thanksgiving dinner or holiday party.
Why go out anyway when you can shop the same deals from your couch instead of waking up early and going out in the cold – and potentially catch coronavirus?
Follow Grace on Twitter @GraceM123456.
About the Writer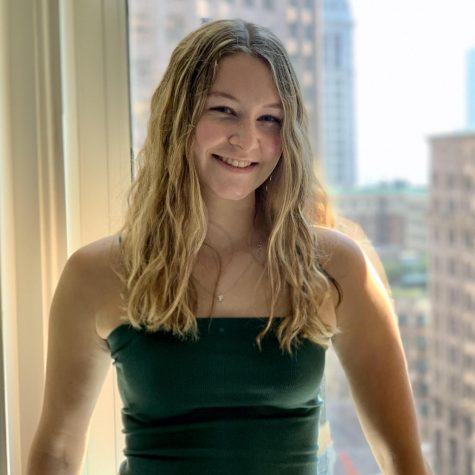 Grace MacDonald, Asst. Copy Editor | she/her
Grace is a sophomore from Seekonk, Massachusetts, majoring in public relations. Besides having a passion for writing, she also enjoys listening to Taylor Swift, watching movies, and exploring the city. She also loves to travel. After graduating, she wants to work for a PR firm or in social media management.
Follow Grace on Twitter
@GraceM123456