Opinion: Even amidst a pandemic, racial justice protests should not stop
Boston, listed as the fifth most liberal city in the country, according to Forbes, has unsurprisingly been the host of dozens of Black Lives Matter (BLM) protests since George Floyd's death in May. 
These protests are frequently attended by college-aged students, who are now one of the largest voting demographics in the U.S., according to the Pew Research Center. In a study from The Washington Post, these voters are almost entirely members of Generation Z (Gen Z) and are more likely to be liberal than the previous generations. 
Preceding the protest that called for justice for Breonna Taylor and took place on Sept. 25, both the Boston Police Department (BPD) Commissioner William Gross and Suffolk University President Marisa Kelly issued statements via email in support of students attending peaceful protests. The BPD advised students to "act in a way that would make your school, your family, and your city proud, and is respectful of our neighborhoods." 
This is a completely subjective request purposefully left vague in order to allow police officers to declare protests disruptive or violent, despite the fact that 93% of protests have been peaceful according to a report from the Armed Conflict Location & Event Data Project.
Since the beginning of the semester at Suffolk University, there have been 52 major protests in the greater Boston area, many of which Suffolk students have attended. 
In both my own experience at protests and from hearing from other students, I am confident that protest organizers go to incredible lengths to protect participants and make them feel safe. When I attended a protest in Boston, they handed out water, snacks, masks and hand sanitizer to anyone who needed it. There were multiple EMTs and appointed marshals in charge of controlling the group and clearing a path for the protesters to march safely. They emphasized the importance of social distancing as much as possible and properly wearing masks.
Suffolk freshman Liv Costa has attended multiple BLM protests since being on campus and says the experience was "ridiculously inspiring" from learning about the racially charged history right around the Boston area and Suffolk campus. She also highly encouraged anyone able to attend a protest to do so. 
As the second largest voting-age demographic, it is imperative as college students and citizens that we stand up for justice and seek to reform the system that has repeatedly allowed for those who are supposed to protect us to abuse their power.
The email sent by the BPD to Boston students came off not only as condescending, implying the young adults who attend the universities in the Boston area do not understand or otherwise cannot "behave" themselves, but completely tone-deaf to the root of the protests occurring. 
The disgusting prominence of police brutality and misconduct targeted towards people of color, specifically Black people, is the spark that has ignited the fire of revolution in the hearts of American people. 
"I don't think it is the job of the police to tell protesters how to protest them," said Costa. 
Protests are meant to spread the message that police officers who go unpunished for the unlawful killing of Black people are fundamentally un-American and un-democratic. Allegedly, those meant to "protect and serve" the citizens of their city and nation have repeatedly gone against that oath and gotten away with it. 
If being less outspoken is what police deem as respectful, then it is imperative that we use our voices as much as we can to get this message across. Police who are unaware of their complacency in a system that permits the repeated abuse of power given to them need to understand that their silence is violence; violence that is just the same as one of their fellow officers kneeling on the neck of a Black man for over eight minutes, which happened in the case of George Floyd.
If you are looking to attend a protest in the Boston area, The Boston Calendar has a web page listing all future protests happening as far as Lynn and Belmont. The Suffolk Center for Diversity and Inclusion's Instagram @sudiversity has a "Protesting 101" post containing tips for safe protesting. If you are able to, I highly encourage anyone and everyone to attend a Black Lives Matter protest as a way to use your voice for good and feel yourself partaking in history.
Follow Leo on Twitter @weightedlive.
Leave a Comment
About the Contributor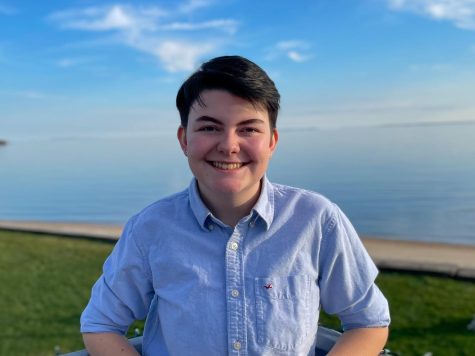 Leo Woods, Photo Editor | he/him
Leo is a senior political science major with a minor in journalism from Clinton, Conn. When he isn't writing for The Journal, you can find him walking around Boston with his camera taking pictures of the city. He is passionate about politics, Mexican food, and Dungeons and Dragons. In the future, he plans on attending law school and permanently moving to Boston.
Follow Leo on Twitter @leowoods108