Activists  gathered in over 40 cities across the world Saturday  to advocate for Universal Basic Income, or UBI,  at the second annual March for Basic Income.
"Universal Basic Income is where every American citizen would be able to receive a simple income of anywhere from $500 to $2,000 a month regardless of your means," said Melissa Lin, Massachusetts state lead for the Humanity First collective. "The point is that everyone deserves to start with an economic floor, and that's not there right now."
About 150 people gathered on the Boston Common and included 17 speeches from elected officials, organizers, activists and other experts. Speakers talked about the importance of enacting a UBI in Massachusetts and nationwide.
Many of the speakers stated that establishing a UBI could help fight not only poverty, but many of the other issues present in current day society, as well. By providing everyone with a baseline, they argue that it would put people on a level playing field.
Individuals could use this baseline to cover necessities like rent and food, and have more choice with money they earn from working. Multiple speakers at the rally discussed how, if a UBI was instituted, people could spend more time with leisure instead of worrying about paying bills.
"[UBI]  is a cure for political invisibility and it's a cure for empowerment," Professor Jason Burke Murphy of the College of Our Lady of the Elms said during the rally.
State Senator Jamie Eldridge filed a bill along with  State Representative Tami Gouveia in the Massachusetts State House that would establish a UBI here in the Commonwealth. Eldridge spoke at Saturday's rally, and said this income could help the nation as a whole.
"There's far too many [people] falling between the cracks," Eldridge said. "It's not just about combating poverty, it's about improving the American quality of life."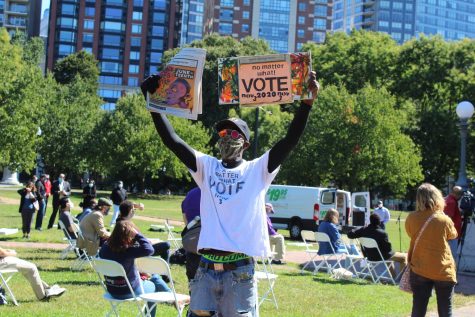 Universal Basic Income is not a new idea in the United States. Political philosopher and Revolutionary War activist Thomas Paine proposed a lump sum of money to be distributed to all US citizens at adulthood as early as 1797. Supporters of UBI include Martin Luther King, Jr as well as President Richard Nixon.
However, the UBI did not gain much support until the 2020 Democratic Primary race, when candidate Andrew Yang made it a center point of his campaign.
"To avoid an unprecedented crisis, we're going to have to find a new solution, unlike anything we've done before," according to a statement on Yang's website. "It all begins with the Freedom Dividend, a universal basic income for all American adults, no strings attached – a foundation on which a stable, prosperous, and just society can be built."
According to the Pew Research Center, about 45% of the nation are in favor of instituting a UBI, while 54% are against it. Those who oppose it argue that it will allow individuals to avoid working, instead living off of the government.
Supporters are adamant that a UBI is an important step forward for the United States, especially in the wake of the COVID-19 pandemic. Millions lost their jobs, leading Congress to pass the CARES Act, which provided a one-time stimulus check of $1200 to Americans who make less than $99,000 a year. While this helped many of those struggling, some are saying it wasn't enough.
"The best time [to institute a UBI] was hundreds of years ago. The next best time is now," said Alex Howlett, founder of the nonprofit Project Greshm, to the crowd at the rally.
Follow Will on Twitter @woodringwill