Museum of Science unleashes new canine-themed exhibit
Take a deep dive into the science behind man's best friend at the Museum of Science's newest exhibit "Dogs! A Science Tail."
The exhibit gives museum goers a chance to see unique perspectives into how dogs interact with the world.
The exhibit features huge dog shaped information boards that create a maze-like atmosphere as they lead visitors through, with many interesting experiences along the way.
Whether it's peering through special lenses that show how dogs see, getting a chance to hear how dogs hear with specially made speakers in a giant dog head, or even the chance to smell the scents dogs do in their daily lives, the exhibit is sure to inform and entertain canine lovers. The exhibit also features life size sculptures of dogs and even a life size dog skeleton that breaks down every part of the dog anatomy. There is even a dog-themed jeopardy, or "Jeopawdy," featuring Alex Trebek himself in the game.
Most of the exhibit is aimed at a younger audience, which can make the exhibit underwhelming for an older crowd. The hands-on activities are clearly aimed at children, and involved putting your face up really close to objects, which just made the whole place feel like one big petri dish of germs. Also, much of the actual scientific information is only located on information boards.
That being said, there are still some interesting and fun activities for adults in the exhibit. "Dogs! A Science Tail" goes through the history of dogs and their transition towards domestication over generations, as well as the modern relationship between dogs and humans and the valuable bond that has been forged. The exhibit also features an area where visitors can tell their own stories about dogs on video for others to see.
The best part of "Dogs! A Science Tail" are live demonstrations with dogs that give insight on how dogs are trained. The presentations, which featured furry Great Pyrenees and Corgis, included a question and answer session with an actual dog trainer and demonstrations about some of the tricks and commands dogs can learn through their bonds with humans. However, there was no petting allowed during the demonstrations we went to.
It is recommended to go on a weekday to avoid crowds of parents and their little ones.
The exhibit was originally created and developed at the California Science Center and is currently making a tour to various science centers and museums around the country. The exhibit will only be at the Museum of Science until May 25, and then it will move on to the DoSeum in San Antonio this summer.
Leave a Comment
About the Contributor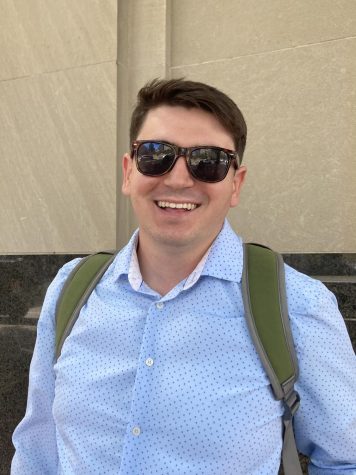 James Bartlett, Multimedia Editor | he/him
James Bartlett is a senior studying print and web journalism. Originally from Lowell, Massachusetts, James has a strong interest in photojournalism and new journalism tools such as podcasting and user-generated content.
James is currently a Web Journalist at WHDH Channel 7 and has previously worked at Boston.com and the Newburpoty Daily News.
Follow James on Twitter
@James_bartlett8
Email him at
[email protected]