Suffolk security officer reflects on son's national title at LSU, possible NFL future
If you walked past Bakary Traore on his Sunday shift at the Smith Residence Hall, you would never know that you're looking at the father of an NFL prospect and a national champion football player. The security guard's son, Badara Traore recently became a national champion as a right tackle for Louisiana State University (LSU).
Badara played high school football at Matignon High in Cambridge before beginning his collegiate career at ASA College in Brooklyn. Before transferring to LSU, Traore was the top rated junior offensive line prospect in the country, while being ranked as the sixth overall junior player in the nation. LSU was one of 20 teams that Badara had offers from coming out of high school, along with schools including Auburn.
Bakary wanted his son to be an LSU tiger from the start. In regards to the 20 schools in question, Bakary said he told Badara to go to LSU when coaches were visiting their home. Coach Ed Orgeron of LSU even visited the family's home in Hyde Park.
Badara played in 12 games this season for the Tigers, seeing action on special teams, and started for three games. He played a total of 241 snaps his senior year. During his junior year he took 228 offensive snaps, again seeing action on special teams. In his two starts that season along with other appearances, he had seven knockdown blocks.
Bakary was fortunate enough to travel to Louisiana to watch his son play in the national championship game. He flew to Baton Rouge on Dec. 20 before heading to New Orleans for the Jan. 13 game versus the Clemson Tigers.
Bakary sat next to Joe Burrow's father, Jim, during the game. The Heisman winner Burrow is projected to be the No. 1 overall pick in the 2020 NFL draft. Burrow had a historic performance, passing for five touchdowns and 463 yards while rushing for an additional score. Burrow now owns the Football Bowl Subdivision (FBS) single season passing touchdown record with 60 in the 2019-2020 season.
Bakary described Joe Burrow as "quiet" after meeting him, contrasting him with his father who he says was going nuts during the game. The game wasn't all fun for LSU however.
"The game was so scary," said Bakary.
Clemson was winning in the second quarter, and Bakary said that the LSU fans were quiet and even concerned they might lose.
The LSU offense soon ignited, led by Burrow and Badara's offensive line. The Clemson Tigers had a 17-7 lead during the second quarter, but by halftime LSU had a 28-17 lead, fueled by three total touchdowns from Burrow in the quarter.
The LSU Tigers maintained their lead for the rest of the game, with any hope of a Clemson comeback being diminished by a Trevor Lawrence fumble with four minutes left in the game.
Following the final seconds, "Everyone was screaming," said Bakary.
He took a picture with his son before going back to the team's hotel to celebrate. He met Joe Burrow, Justin Jefferson, Clyde Edwards-Helaire and many others. They all called him dad, acknowledging he was Badara's father.
"After they win I take the hat from him," said Bakary. Badara also handed his father his celebratory cigar.
Badara joined his team on their Jan. 17 trip to the White House, as guests of President Trump who was also in attendance at the National Championship game.
Bakary was born in Mali himself, and Badara's mother is from Guinea. Badara became the first member of his family to graduate from college in December. A June 2019 story in The Advocate on Badary said that graduating from college was "his parents' goal for him when they moved from Africa to pursue "the American Dream.'"
Badara's American Dream is far from over. He is currently training in Fort Worth, Texas for the NFL Combine, and subsequently the NFL Draft in April. Bakary plans on attending the event, which will take place in Las Vegas.
Leave a Comment
About the Contributor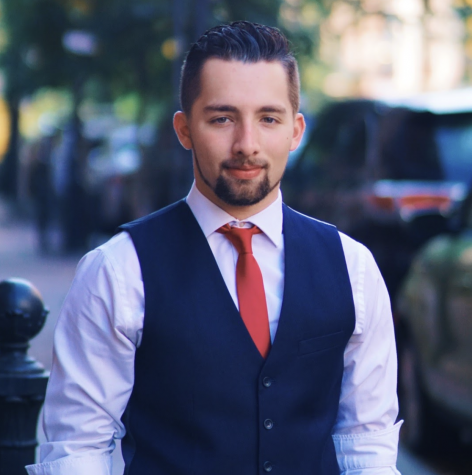 JD Conte, Sports Editor | he/him
JD is a senior from Wallingford, Conn. double majoring in political science and broadcast journalism. Aside from writing for the journal, JD can often be found in Studio 73 working on his broadcast skills. Off-campus JD can be found watching all the Boston and UCONN sports teams. He enjoys spending time with his family and friends in various spots around the city, especially in East Boston and the North End. After graduation JD hopes to work in a newsroom full-time or pursue a career in the sports industry.
Follow JD on Twitter
@jdconte617
Email him at
[email protected]