Burton skates past the competition, leads team stats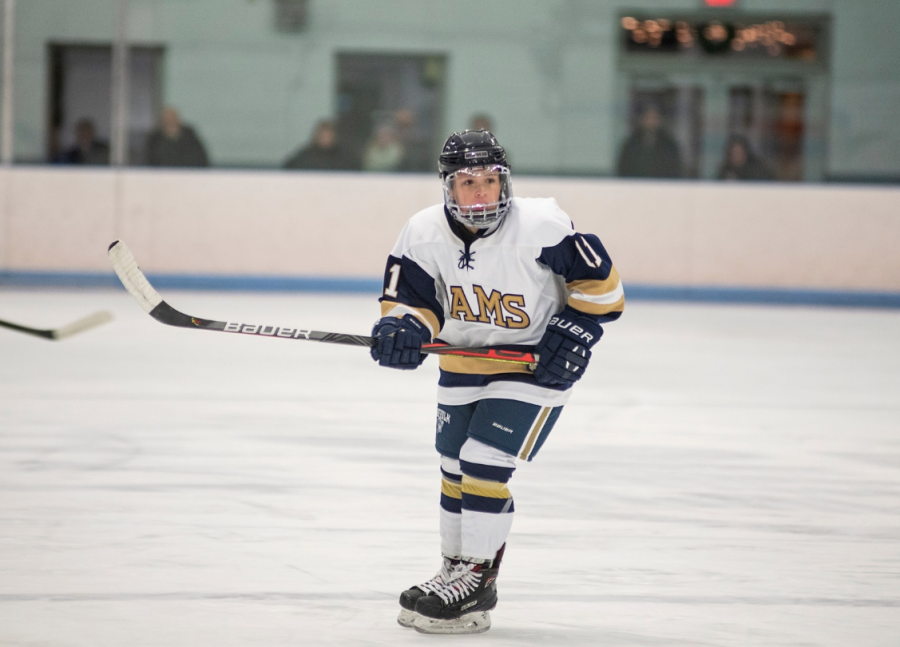 From Illinois to Massachusetts, Maddy Burton's passion for hockey has never dwindled. Now, the Suffolk junior is proving her skills as a forward on the university's women's hockey team.
Despite being a new tranfer student on campus, she's already made her mark for the Suffolk Athletics program by being one of the team's top scorers. Out of the 21 games Burton has played this season, she has scored nine goals and made nine assists.
Her leading statistics come as no surprise, considering Burton has been in a pair of skates since she was five years old. The Aurora, Illinois native grew up alongside two older brothers and aspired to play hockey the same way they did.
"My mom first put me in figure skates and I hated that, so I wanted to be like my brothers," said Burton.
She spent her childhood in the rink, starting out on a boy's hockey team, playing through high school and joining the Chicago Mission AAA Youth team. Then, she kicked off her college hockey career by moving hundreds of miles to the East Coast to attend Merrimack College, where she earned a spot on the school's Division I team.
There are many differences between Division I and Division III teams, and for Burton, the main one is that her role on this team is different than roles she has had in the past. At her previous school, she got as much ice as she could but was a fourth line player. Here at Suffolk, however, she said the team looks to her more for points and as a playmaker.
Burton can feel the pressure of being one of the players the team depends on for scoring, but she has worked under pressure and knows how to handle it when in the moment. She is someone her teammates can look up to as an example because of her experience playing for other teams and schools, as well as her being one of the oldest players.
The Midwesterner knows she isn't the only one from another part of the country in the New England hockey scene. Burton said she finds it common for hockey players from the Chicago area to come to Boston because there are plenty of teams and opportunities. She has even had instances where she has seen some familiar faces while on the ice.
"You're not on the same team anymore, but it's a cool experience because you guys can see how far everyone has gone," said Burton.
And although Burton is new around the Porrazzo Memorial Rink, that doesn't mean she feels alone. She is getting to know her teammates and has bonded with them over the course of this season.
"It's hard changing a setting and being far away from home, so it's nice to have people to lean on," said Burton.
Right now, the Lady Rams currently hold a 7-11-3 record and have only four games remaining in their regular season. Burton hopes to influence her teammates as they make a further push towards the playoffs.
"As a player, I want to get points and I cheer on my teammates," said Burton. "I try to be a positive influence to everyone. I always want to make everyone have a positive attitude and just perform at their best."
About the Contributor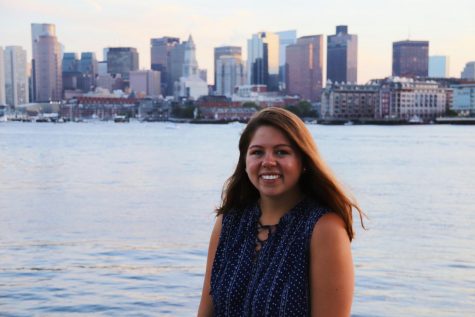 Morgan Hume, Arts Editor | she/her
Morgan is a native of Troy, New York and the Arts and Culture Editor for The Suffolk Journal. She is a rising majoring in print/web journalism and minoring in history. When she isn't scribbling into a notebook, she can be found drowning herself in cups of coffee, singing too loudly in the shower and exploring Boston, the historic city that has quickly become her home.
Follow Morgan on Twitter
@morganmhume