'Circles' takes listeners on a round trip through late artist's thoughts
"Swimming in Circles," the idea of battling against the current to only end up where you originally started, comes to fruition on Mac Miller's sixth official album release "Circles."
The ladder in the expression, "Circles" is meant to be related in to his previous album "Swimming." On the posthumous record, Malcom McCormick is at his most stripped bare and reflective.
2018's "Swimming" featured Miller hitting all strides of his talents ranging from somber to boastful, and with just the right amount of jazz infusion and raspy singing. "Circles" features an artist more in tune with self expression, taking an even keeled, poetic approach.
The opening and title track is drowsy and slow but with a rhythm that is easy to catch and a beat that makes your head nod subconsciously.
The pace quickly increases as the spacious "Complicated" creates a vast array of airy synths and muted keys for Miller to croon over. The beat bounces steadily and the chorus' call of "Does it all always gotta, gotta be so complicated?" rolls off the tongue. Featuring some of the most vocal effects of the whole project, this track was unique in production. His voice floats around the song in different pitches and tones as he toys with the idea of getting older and longing for a simpler life.
"Blue World" is an upbeat track on which Miller takes his time to spit some game in his usual dreary yet confident tone, rapping "I might just turn around do a 180, I ain't politicking aint kissin' no babies, the devil on the doorstep acting so shady, don't trip."
Miller battled addiction throughout his career and often referenced his struggles in his work. The idea that he was "Swimming in Circles" could be an allusion to this as well as his life as a whole. The idea that he might 'do a 180' with his life was something he had been actively expressing in his music for years.
While this album is nowhere near as lyrical as some of his other notable works, the poetic causality of this album seamlessly finds its place in the Mac Miller catalog. He slips effortlessly into the persona of the bar room singer. He's not the best singer you've ever heard but he's the one you want to hear 11:30p.m. on a Thursday at the local pub.
His soft singing and nonchalant flow make tracks like "Woods" easy to sing along with. The best of his smooth MC ability is matched by his introspective singing of "Things like this ain't built to last, I might just fade like those before me, when will you forget my past, got questions ask you know the stories."
One of the later tracks, "Surf," sounds similar to a live set as the instruments feel organic. It lacks drum pads and sample loops, which some fans may be used to. The song is about not being able to change things that have happened, and that life goes on.
The outro "Once A Day" is representative of another repeating cycle. Singing both "Once a day I rise," and "Once a day I fall," over sincere keys he reflects on daily thoughts and experiences.
A detour from his past works of clever word play, facetious punchlines and 808 drums, "Circles" allowed Miller to explore a new sound while confronting his own values. The bareness of the instruments and lyrics contrasts his early work, opting this time to be more private, while still wrestling some of his deepest issues.
The album will devastate fans who will be left longing for more, but presents a new sound that even first time listeners will be able to digest and enjoy as his words on life, love and past decisions will resonate with most.
Leave a Comment
About the Contributor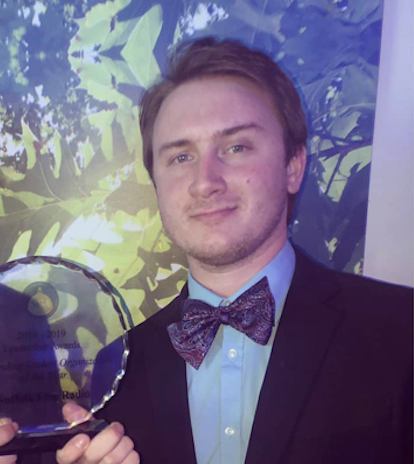 Eddie Reinhardt, Arts Editor | he/him
Edward Reinhardt is a broadcast journalism major and public relations minor who has a passion for writing. Born and raised in Massachusetts, Boston offered a chance to get out of the suburbs while staying close to family. He enjoys covering concerts and interviewing artists and hopes to one day make a career of it.