Halsey's vulnerability saves heavily autotuned new album
You should be happy that Halsey is back with another album.
Singer-songwriter Ashley Nicolette Frangipane, known best by her stage name Halsey, released her third album "Manic" on Jan. 17. Throughout the 16 tracks, she reveals personal struggles and vents about love and loneliness.
Halsey released six singles before the rest of the album, including hits like "Graveyard," "You should be sad" and "Without Me." The songs blended in well with the album's lesser known tracks, although it's unlikely that the others will climb the charts.
"Manic" has a mix of songs that bring on a variety of feelings. Songs like "3am" are easy to blast at a party all night long. Other songs like "More" and "You should be sad" are bound to make the listener's eyes well up with tears.
Although much of the album's pop songs feature smooth vocals and a vibe that feels similar to Billie Eilish, Halsey also brought acoustic elements into the album. "Finally // beautiful stranger" wedges a gentle guitar nicely in between "Without Me" and "Alanis' Interlude," two tunes that use some of the heaviest instruments.
No matter what elements went into each track, the songs are always lyrical. Unlike many of today's pop hits which repeat the same few words or phrases, the songs on "Manic" tell a story or convey a message to the listener. Whether it's about Halsey's relationship challenges and or her fight to find happiness, she was courageous to draw attention to such vulnerable emotions.
While today's pop music typically relies on autotuning to create a certain kind of sound, the autotune in this album bounced back and forth between sounding artistic and completely unnecessary. For example, the melodic piano and sweet rhythm in "Forever… (is a long time)" helped break up the stream of pop, but the overbearing sound effects and autotune felt like a forced ending.
Halsey experimented in this album by incorporating audio from movies like "Jennifer's Body." For example, at the end of the opening song "Ashley," listeners will recognize actress' Kate Winslet's voice as a snippet from the 2004 film "Eternal Sunshine of the Spotless Mind" concludes the track, with Halsey's backup vocals overlaid. The inclusion of these samples gives listeners an interesting peek inside the art that speaks out to Halsey.
Halsey takes the spotlight on "Manic," but appearances from Dominic Fike, Alanis Morissette and BTS member SUGA were also featured. The artists' voices are heard in interludes that reflect their individual sound and are named after them.
About the Writer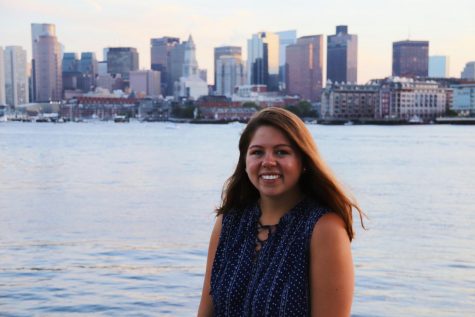 Morgan Hume, Arts Editor | she/her
Morgan is a native of Troy, New York and the Arts and Culture Editor for The Suffolk Journal. She is a rising majoring in print/web journalism and minoring in history. When she isn't scribbling into a notebook, she can be found drowning herself in cups of coffee, singing too loudly in the shower and exploring Boston, the historic city that has quickly become her home.
Follow Morgan on Twitter
@morganmhume