Larry and Michael Smith Court floods
Men's and women's basketball teams continue push for GNAC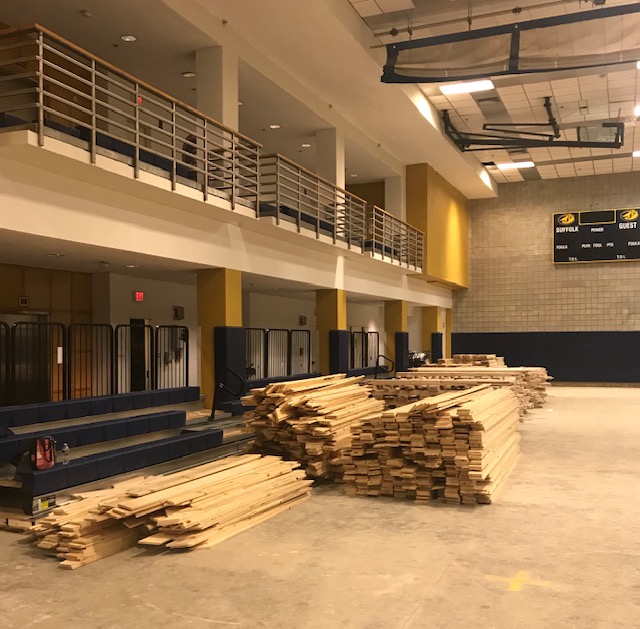 Having home court advantage in basketball could be a major difference maker in the outcome of a game. With that being said, the Suffolk men's and women's basketball teams are facing their toughest "off-the-court" challenge this season.
Sometime in late December, the Larry E. Smith and Michael F. Smith Gymnasium, home court for both the men's and women's teams, flooded, causing serious damage to the facility. The damage was not discovered until Dec. 27 and called for a replacement of the entire court floor, according to Suffolk University spokesman Greg Gatlin.
The gymnasium is located 30 feet below ground in the Ridgeway Building. Sometime during winter break a drainage system malfunctioned, causing a pumping mechanism to fail, ultimately causing water to rise up through the floorboards said Gatlin.
"New sump pumps will be installed with a new control panel that now has the ability to sound an audible alarm and send text messages to key personnel if water levels rise too high," said Gatlin in a statement. "That feature was not available 30 years ago when the control panel was installed."
Both teams have been forced to play the remainder of their home games at neutral sites. The men's team has been practicing and playing games at Tufts University, and the women's team has been both practicing and playing at Emerson College said Gatlin.
"We are really grateful that two Boston schools, one a 10-minute walk another a 10-minute ride, have helped us out," said women's basketball coach Ed Leyden.
The women's team has made the most of its situation post-flood with a big win against Great Northeast Athletic Conference (GNAC) frontrunner Albertus Magnus College with a score of 65-59.
"Things happen," said Leyden. "We recognize that we're all in this together and keep a great sense of humor about things. It's unfortunate but not the end of the world."
Both the men's and women's teams were strongest when playing at home so far this season, with records of 4-1. The major adjustment has not seemed to faze either team much, as their neutral site records each stand at 2-1.
Men's basketball captain Thomas Duffy said the neutral site games have attracted less of a fan presence than a typical home game
"We've kind of embraced it," said Duffy. "We'd rather be able to play at our home gym in front of our friends and buddies, but it's been fun to play at new gyms we've never played at before."
Overall, both the men's and women's teams have gotten off to impressive starts this season. The men's team is currently sitting at 9-7 and the women's team has a record of 11-5, which puts them fourth in conference seeding.
After an average 6-6 start to the season, the men's team was able to get the ball rolling with three straight wins against tough opponents such as Tufts University and Anna Maria College.
"Our record doesn't really show how good of a team we are," said Duffy, "Eventually at some point it's going to turn the corner."
Duffy has acted as the anchor to this young team, currently averaging the second most points per game on the team with 11.2 (behind only junior guard, Nate Hale who is currently averaging 12.9) while shooting 42% from the field.
After starting the season 1-2, the women's team went on to win four straight games and have been playing their best basketball ever since. Led by senior captain Jenni-Rose DiCecco averaging 15 points per game, the women's team has made a name for itself in the GNAC this year.
Losing out on five to six home games might be the breaking point for many basketball teams. Luckily for Suffolk, both the teams are not looking to give up as they both prepare to take on Johnson and Wales on Jan. 29.
While the season continues to move forward, Suffolk's new court is scheduled to be refurbished by Feb. 10 said Gatlin.
"We were close to needing a new court in the next five years," said Suffolk Athletic Director Cary McConnell. "It was the original court in the building since 1991. It certainly served its life well."
About the Writer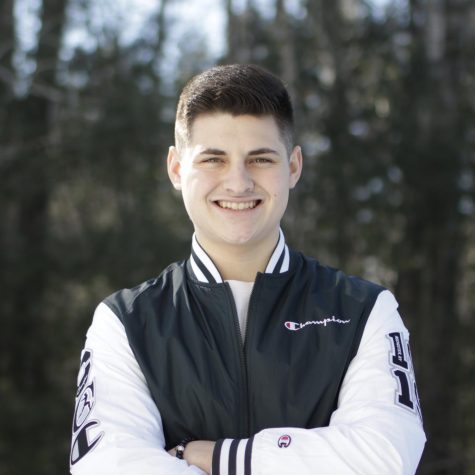 Nick Milano, Assistant Opinion Editor | he/him
Nick is a sophomore broadcast journalism major from Pelham, New Hampshire. His main passions include sports, specifically football and basketball, photography, and writing. Nick's future goals include becoming a sports analyst and creating a large social media presence.
Follow Nick on Twitter
@NickMilano12
Email him at
[email protected]