Album review: Rex Orange County deserves 10/10 rating for 'Pony'
Hang on for a minute...we're trying to find some more stories you might like.
Loving Rex Orange County is getting easier and easier with his third album "Pony," released on Oct. 25.
Alexander O'Connor, better recognized by his stage name Rex Orange County, is an English singer songwriter known for his songs "Loving is Easy" and "Sunflower." The alternative pop musician has developed his own personal style in his discography, and fans will appreciate the way he maintains it in the 10 tracks on "Pony."
O'Connor stays true to his familiar sound while incorporating more artistry, technique and experimentation, making "Pony" his most carefully crafted album to date. The 21-year-old's record has a youthful feel, and showcases his individuality and talent in different ways on every track.
"Pony" opens with "10/10," a song fans may already know because the official music video was released in September. The buoyant beat masks the dismal lyrics, drawing the listener in with O'Connor's identifiable voice and a catchy rhythm, which will have the audience hooked until the bitter end.
Although O'Connor doesn't have the strongest voice in the industry, it doesn't matter. His distinct sound is completely his own. As the album transitions into "Always," a slower track that offers a mellow, laid back vibe, the singer easily courses through the notes. His vocals combined with a unique instrumental backing makes this song addictive.
In the third track "Laser Lights," O'Connor incorporates more percussion and brass instruments, creating a jazzier tune. Listeners can't help but tap their foot or bop their head along to the beat. Fans may be used to seeing O'Connor seated behind keyboard or acoustic guitar, so this mix of instruments is refreshing.
"Pony" is filled with emotional lyrics, sometimes vague and sometimes more personal. The fifth track, "Stressed Out," is the shortest one on the album, only one minute and 46 seconds long. However, the musician quickly packs a punch. The lyrics "They wanna lie and still be friends but when you're at your worst, they're not there, and you discovered that they don't care" are simple, but dive into the singer's own experience with letting friends take advantage of his money, then leaving when times get tough. While this may be a personal issue O'Connor has gone through, the song discusses toxic friendships that many listeners have also experienced.
The remarkable artistry in "Pony" extends beyond just the lyrics. O'Connor creatively layers vocals in certain songs, including "Face to Face" and "Never Had the Balls," creating a small echo effect rather than ordinary backup vocals.
Many tracks have a peppy rhythm, but not all of them are cheerful. "Pluto Projector" uses transcendent string instruments and subtle backup vocals that are sure to both soothe and awe listeners. It's easy to hear O'Connor's old style intertwined with his experimentation with new sounds and song making techniques.
Throughout "Pony," certain songs show off lyrics, some show off new instruments, and others show off vocals. In the final track "It's Not the Same Anymore," O'Connor accentuates all of these in one track, wrapping up the album with a song that beautifully demonstrates his growth as an artist.
"Pony" is O'Connor's first album since his successful release of "Apricot Princess" in 2017. Although fans were left craving more from the singer for over two years, it's clear "Pony" was worth the wait.
About the Contributors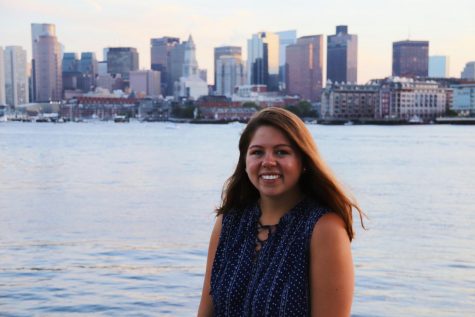 Morgan Hume, Arts Editor
Morgan is a native of Troy, New York and the Arts and Culture Editor for The Suffolk Journal. She is a rising majoring in print/web journalism and minoring in history. When she isn't scribbling into a notebook, she can be found drowning herself in cups of coffee, singing too loudly in the shower and exploring Boston, the historic city that has quickly become her home.