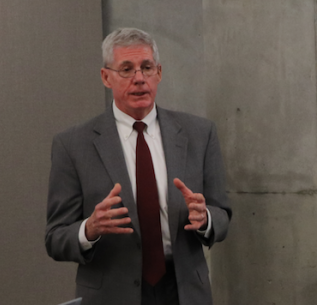 Gerard "Chip" Coletta, chief of security and police for the Suffolk University Police Department (SUPD), will be leaving the university on Nov. 1. SUPD Capt. Kenneth Walsh will step in as interim chief until a replacement is found.  
Coletta has been the Chief of Police at Suffolk since February 2013, and is moving to Tufts University in order to serve as interim Chief of Police there. 
He said he was contacted by Tufts and told they were looking to replace their current chief of police, who is leaving.
"I just got a really good opportunity…" said Coletta in an interview with The Suffolk Journal on Tuesday. "I had to do what was best for me and my family, but It was a really difficult decision. [Working at Suffolk] is a great job. I really love it here." 
Coletta said the move to Tufts is a career advancement. 
"In terms of area responsibilities, it's a much larger college with a much larger police department," Coletta said. 
Suffolk faculty and staff received an email about Coletta's departure Monday night. 
The news came from Director of Title IX & Clery Act Compliance, Sheila Calkins, as SUPD works under her office and reports to her directly. In the email, Calkins wrote about the impact Coletta has had on Suffolk. 
"[Coletta] has built strong connections and relationships throughout the University and with our external law enforcement partners, including the Boston Police Department, the Massachusetts State Police and federal law enforcement," Calkins wrote in the email. 
Coletta said helping the department become more professional is one of his proudest achievements at Suffolk. 
"We have instituted a lot of processes to make it easier for the officers to do their jobs," said Coletta. "If you ask others in the university, people have a better opinion of the department. Not that it was a bad department before, but just that it needed some updating and improvement."
These processes include a new document management system and new training practices. 
While he has had an impact on how the department runs, Kenneth Walsh, SUPD police captain and emergency manager, said Coletta has also had an impact on him and has acted as one of his mentors. 
"Chief Coletta] has got more energy than probably anyone I've ever met," Walsh said. "He is the hardest working guy I've come across. He has taught me a great deal about policing, and also about higher education policing."
Coletta also looked back fondly on the campus police officers here and how they make a difference at the university through their everyday interactions with students. 
"They learn very quickly as campus police officers how important it is to understand what their mission is," said Coletta. "Their mission is to provide safety and security for students who are here for a limited amount of time, being young adults, newly on their own, that have their own concerns and a lot going on in their own lives, with new environment and trying to learn." 
"We want to make it as easy as possible for them by making them safe and secure here, by doing our job," said Coletta. 
To him, it's also important for officers to remember that students make mistakes and bad decisions, just like the officers did when they were young.  
"One of the philosophies I have tried to impart to our campus police officers is that by and large, our entire consistency— the people who we deal with— the students are all good kids."
From interacting with the students he serves to the various departments that work with SUPD, Coletta said he has fond memories of his time at Suffolk. 
However, his command staff at SUPD has been "one of the best things about working here," he said. 
"We all get well, we all have similar philosophies," said Coletta. "We have really good support services. They are not afraid to call us with any issues they may have and vice versa. Those are the kind of things that make a job like this is worth it."
As for parting words, Coletta gave advice to both the Suffolk community and Walsh as he enters the role of interim chief. 
"For the university as a whole, I'd like to see the entire community— students, faculty, staff— support the police department, and for the police department to continue to have positive interactions with the community," said Coletta. "[For Walsh], he knows the operation. He knows what needs to be done."