Review: Bon Iver illuminates crowd with tracks from 'i,i'
Last week, frontman Justin Vernon and his mythical compatriot members of Bon Iver brought their latest album to life at the nearly-full TD Garden for a stunning set that spanned their entire discography.
The occasion for Bon Iver's current tour (a rarity for them) is the late-August release of their fourth full-length album "i,i,"  pronounced phonetically as"eye comma eye." "i,i" epitomizes the group ethic of Bon Iver that Vernon emphasizes so often that the band makes this music, not just himself. Dozens of others, far more than the average album, are credited in the liner notes for "i,i".
While earlier works like the seminal record "For Emma, Forever Ago," which gave us "Skinny Love" and "re: Stacks," featured Vernon crooning solo through prismic autotune over lush guitar lines, the band's show at the Garden last week boasted a star-studded lineup of musicians (and machines; Vernon is known for experimenting with synthesizers) behind him.
As the lights came up on stage, Vernon at center, a projected video montage played over "Yi," the first track off of Bon Iver's latest album. The lights pulsed alongside the demo tape which, per the album's liner notes, is really just Vernon and friend Trevor Hagen fiddling with an FM radio dial.
The new album is a declarative statement on where Vernon is now as a musician and person. He's said in multiple interviews that his sound was influenced heavily by psychedelic drugs, which is why the audience chuckled when he spoke for the first time, saying only, "How are ya? I'm sober."
One of the more noteworthy pieces of Bon Iver's tour thus far has been the extensive employment of advanced light setups that, at least in Boston, included a series of a dozen or so moving mirrors above the stage. They sent beams of laser light scattering across the crowd, who occasionally added to the melee by shining their cell phone flashlights in unison, as they did during a haunting rendition of "Holocene."
Political commentary is not uncommon for Vernon, who has strived to make Bon Iver a socially-conscious collaborative. "Sh'diah," which closed the main set, is, per Vernon, about the "[Worst] Day in American History — the day after Trump got elected."
"For the Lord," the song closed, "keep it rational. There's no fountain."
That political bent was on full display at the Garden when Vernon spoke a second time to plug the Massachusetts National Organization for Women. In a short, prescripted speech similar to ones given at other tour stops, Vernon expounded on his feminist beliefs and encouraged others to identify as feminists.
The highlight of the show came around the halfway point as the band launched into a full-on stadium rock version of "Blood Bank," the title track off of their 2009 extended play. The song billowed across rows of bobbing heads as Vernon utilized his incredible range to nail falsettos at the end of each refrain.
Bon Iver's "i,i" tour is a climactic experience that emphasizes their unique sound and musical ethos. The band probably summed up their evolution best with "RABi," the closer from their three-song encore set. "A little life feels good, now, don't it?"
Leave a Comment
About the Contributor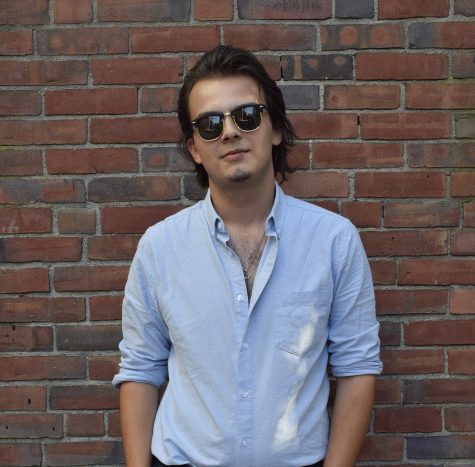 Nick Viveiros, Senior Staff Writer
Nick Viveiros is a senior majoring in Politics, Philosophy & Economics and Journalism. Born and raised in Fall River, MA, he began writing for the Journal in the fall of 2016.
Nick published his first book, the poetry collection this new world, during his first semester of college. His second book, Love Across the Zodiac, was released through his company, Quequechan Press, in mid 2019.
Follow Nick on Twitter @thenickviveiros 
or head on over to his website, nickviveiros.org