Avril Lavigne fills Orpheum with teenage nostalgia through set list of punk-pop chart toppers
Avril Lavigne brought fans back to the days of grungy skater kids and hot pink highlights with a set list spanning her most popular pop-punk hits from the early 2000's during her concert Thursday night at the Orpheum theatre.
The singer-songwriter stopped in Boston as part of her "Head Above Water" tour, her first time on the road in five years since "The Avril Lavigne" tour, which began in December 2013. 
Lavigne opened the show with moving track "Head Above Water," which she dropped last year. As she commanded the stage with powerful vocals and lyrics, clips of the song's music video played on the screen behind her, showing stunning cinematography of her submerged under waves on a black sand beach. The white dress she wore on stage, which had floor-length sheer fabric draped loosely around her, matched her outfit from the video, making for a unique visual. 
After the first number, she ran backstage to make a quick costume change into a casual black T-shirt with pink tulle accents on the sleeves. Between her dark skin-tight pants and heavy eye makeup, she stuck to her classic aesthetic that all fans are familiar with.
The singer immediately dove into a collection of her earlier hits, and every time she reappeared in the spotlight, the crowd was completely honed into her performance. It was impossible not to belt out every word to "My Happy Ending," "I'm With You" and "Complicated," her first hit song  she released 17 years ago from her debut album "Let Go." 
Lavigne is best known for her voice, but she is also a prolific songwriter and was one of the visionaries behind Kelly Clarkson's chart-topper  "Breakaway." Lavigne sang her own version of the song, adding a raspy punk flare. The singer said although she wrote it years ago, this is the first tour where she thought to perform it live.
Her set ended with "Sk8er Boi," one of her most recognizable tunes. As she effortlessly belted out each note, clips from the 2002 music video played in the background, giving audience members a taste of teenage nostalgia.
Lavigne's relaxed stage presence and constant smile kept fans engaged until the electric guitar's final chords. The performer disappeared backstage to take frequent breaks between every handful of songs, leaving her bandmates to perform instrumental solos. The lengthy transitions made sense when she changed her clothes, but any time she returned with the same black t-shirt and pants, crowd members were left wondering why she went backstage in the first place.
Lavigne's setlist was composed of her greatest hits, which was a pleasant but unexpected surprise. Since she called this the "Head Above Water" tour, it was assumed that she would be performing more tracks off her latest album of the same name. 
Despite this, when the last notes of "Sk8ter Boi" faded out and the lights dimmed, the audience continued to cheer and scream the singer's name until she came back for an encore. Clad in a flowy red top with sheer fabric that grazed the floorboards, she wholeheartedly sang "I Fell In Love With The Devil" from the "Head Above Water" album. Once again, she wore similar clothes to her attire in the song's music video to blend with clips of the video on the screen behind her.
Seated comfortably at the piano, Lavigne ended the concert the same way she began it; with striking vocals and telling lyrics that brought the venue to a stand-still.
About the Contributor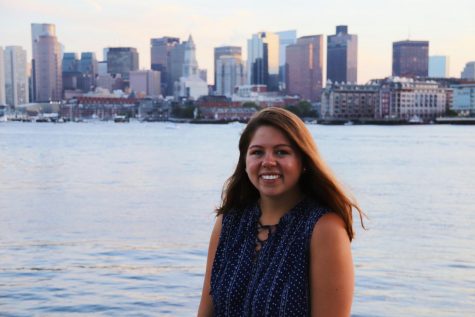 Morgan Hume, Arts Editor | she/her
Morgan is a native of Troy, New York and the Arts and Culture Editor for The Suffolk Journal. She is a rising majoring in print/web journalism and minoring in history. When she isn't scribbling into a notebook, she can be found drowning herself in cups of coffee, singing too loudly in the shower and exploring Boston, the historic city that has quickly become her home.
Follow Morgan on Twitter
@morganmhume