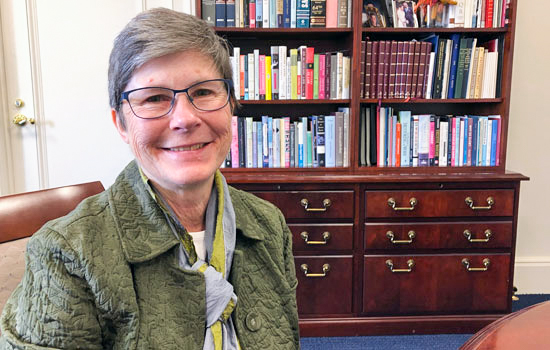 Suffolk University announced on Tuesday the appointment of Julie Sandell as its next senior vice president for academic affairs and provost.
Sandell, the Boston University (BU) senior associate provost and faculty member of the BU School of Medicine, was chosen by Suffolk President Marisa Kelly to continue the university's work toward their 2025 strategic plan.
"Her experiences doing just those kinds of things are really going to be helpful as we move forward in the implementation of our plan," said Kelly.
Sandell participated in the creation of BU's first strategic plan, which sought to make changes to the university's faculty diversity, professional development, work/life balance issues, among others.
As Suffolk creates its own strategic plan, the 2025 plan, Sandell hopes to implement changes in order to add more transparency between different roles at Suffolk.
"It's important to be as transparent as you possibly can," Sandell said in an interview with Suffolk University. "I think that having a strategic plan is the best tool for transparency that a leader can have when making tough decisions about where to invest money or where to invest effort or what's going to be a priority."
One of many major decisions that Sandell will be involved in within the coming year will be whether or not to establish two new schools at Suffolk, a School of Public Relations and an Honors School.
Although these are both still being investigated as options for the university in the future, Kelly highlighted that Sandell's interdisciplinary work would be an asset to something like an Honors School.
"I know that Suffolk is considering an Honors college which I think is potentially a way to bring students together from across all three schools," said Sandell in an interview with The Suffolk Journal. "I'd love to explore ways in which an honors college could be more than just prior academic achievement. I think there are a lot of ways to bring students together, a little bit of pulling them out of their colleges and make it more cohesive for them."
The position Sandell is assuming has traditionally acted as a go-between for faculty, students and administrators across all three of Suffolk's schools.
Sandell expressed hope to be the connection between all parts of the university, which is reminiscent of what The Journal reported on as what Kelly's goals were upon being appointed as provost in 2014.
"I [want to help] the leadership of the university understand what the challenges are for faculty and students," said Sandell. "I really enjoy helping faculty understand where the administration is coming from with what they were trying to accomplish."
The University has highlighted Sandell's past in working with diversity and inclusion on campus, something that President Kelly believes the provost can help with in having an honest conversation on where the university stands.
As one of the main goals of Kelly's presidency, Sandell's diversity and inclusion focus could help to better improve the efforts of faculty hiring.
"From an organizational perspective, there may or may not be any impact in terms of what we are doing here [with diversity], but from a commitment perspective and providing leadership and helping us achieve our diversity and inclusion goals, particularly with respect to faculty hiring," said Kelly.
With her experience as a member of the Diversity and Inclusion Task Force at BU, Sandell wants to involve students directly in the decision-making process to make the Suffolk community more diverse and inclusive.
"The person in the provost position is the person who has to view across the student needs, the budgets needs, the administrative needs. But first I look towards the students," said Sandell. "I really look towards the students themselves as the first and foremost generator of ideas for how I can serve them better."
Kelly felt that Sandell's experiencing teaching anatomy and neurobiology at BU's School of Medicine for the past 28 years has prepared her to work across departments and disciplines.
While in this position, Sandell was nominated as the school's Educator of the Year eight times, has been published widely and was responsible for more than $5 million dollars in research funding for BU.
"The experience she brings in that regard will be really helpful as we consider new opportunities in the future," said Kelly. "It is also that neurobiology is also very interdisciplinary in itself, so having someone very much dedicated to interdisciplinary work, in general, is a real plus from my perspective."
As Sandell looks towards her new role as Suffolk's newest Provost starting August 1, she highlights her main reasoning for getting into higher education.
"At the end of the day, I am in higher education to serve students," said Sandell. "If we are going to serve students to the best of our abilities, that's the purpose of having an administration for the university."