Fifth Africaribana signals new era for Caribbean Student Network
The Caribbean Student Network (CSN)  held its 5th annual Africaribana last Friday night at Sargent Hall. On par with this year's theme "Switching Lanes," CSN partnered with other universities for the first time to coordinate the event and move the organization into a new direction.
Students from across Boston danced, mingled and ate traditional Caribbean food throughout the night. CSN members referenced the event's theme to encourage minimal phone use during the event by students, who were told that just like they should not text and drive, they should not text while socializing.
"Africaribana is a celebration that vividly depicts our hospitality, culture and cuisine through different forms of art and cultural identities," said CSN President Malik Richard. "Mélange de culture is what we like the call it; a cultural mixture of races and identities uniting together as one."
Emerson's Black Organization With Natural Interest (EBONI) helped organize this year's  Africaribana, and had planned to collaborate with Suffolk before CSN reached out to them. Northeastern University and Regis College also advertised the event on their own campuses.
"We wanted to build  a sustainable relationship with these universities not only for CSN, but for Suffolk at large," said Richard. "Boston is our city, and when CSN thinks about Boston, we think inclusivity, diversity and believing that there is power in numbers."
CSN Vice President Jolise "Jello" Grant said that some students were surprised by the partnership with Emerson College.
"There's a rivalry between the two schools that I'd never really heard of, and people would ask me, 'How did you guys get Emerson to go to this?" said Grant.
"I just asked," she told them.
This was also the first year Africaribana was hosted at Sargent Hall. When the event was held at Somerset Cafe in previous years, it often sold out before the night's end and students would have to be turned away at the door.
"For [Africaribana's 5th anniversary], we also wanted to eradicate the stigma that students were expressing, 'which was having fun in a space in which we ate,' " said Richard, citing this as another reason for needing a larger space.
With its 30th anniversary coming up in 2019, CSN continues to educate students on the Caribbean and works to eliminate stigmas surrounding race. Although the organization focuses on Caribbean culture, it is open to students of all backgrounds.
"People always think that CSN is only for black people, but its not," said Grant. "Our events are attended by people of all cultures and this club opens up many conversations."
The group is especially dedicated to showcasing diversity among black cultures.
"We're not just black; we're African Americans, Caribbean Americans and Latinx Americans," said Grant. "We are all creative in different ways, but we all try to be a family so that we know there's someone here to support each other."
CSN holds events throughout the semester to bring students together and celebrate diversity. In November, it co-hosted the "Thank you for Being You" luncheon alongside other campus organizations, and plans to hold several more events through the end of the school year.
The organization's annual fashion show is on April 13th at the Hyatt Regency Hotel, and E-board members hope to collaborate with Suffolk's Program Council and the Student Government Association to organize the first ever Mr. and Miss Suffolk University in March 2019.
"These events are a nice way to get in touch with other students," said Pam Denello, a sophomore at Suffolk who attended Africaribana and other past CSN events. "It's nice to see the school represent [different cultures]."
To Richard and CSN's members, these events are vital to showcasing diversity at Suffolk.
"Our culture is so deeply rooted in us that we refuse to let our passion bottled in," said Richard. "At the end of each semester, we give students a reality of who we really are while making sure everyone feels welcome celebrating with us."
About the Contributor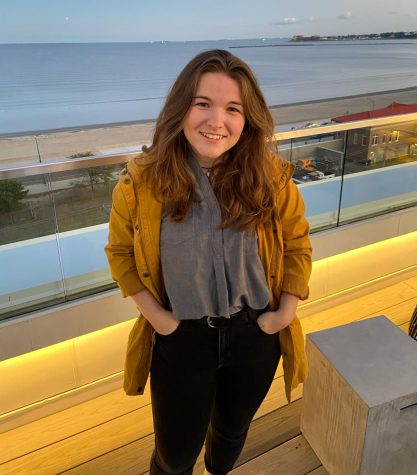 Caroline Enos, Editor-in-Chief | she/her
Caroline is from Gloucester, Mass. and is a junior double majoring in print/web journalism and government. She was formerly a news editor for The Journal, is currently a correspondent at the Boston Globe and was also a correspondent at The Gloucester Daily Times. When she isn't stressing over deadlines, Caroline spends her time drawing and listening to good music.
Follow Caroline on Twitter
@CarolineEnos
Email her at
[email protected]