Men's hockey laces up for first season in NEHC
Suffolk men's hockey will drop the puck on their 39th season on Friday and look to compete against a whole new set of teams as they enter the New England Hockey Conference (NEHC).
Leaving behind the Commonwealth Coast Conference (CCC), their schedule features 24 upcoming games. This includes 17 conference games against teams from Johnson and Wales University, Babson College and University of Massachusetts Boston.
In his 15th year coaching the team, head coach Chris Glionna thinks that his team will have no problem with this transition. He said in an interview with The Suffolk Journal that he still feels the same rush of emotions coaching today as he did in his first game with the Rams.
"Moving to the NEHC shows the growth of this program," said Glionna. "Playing in this league was something most people would never think would happen. I give a lot of credit to Director of Athletics Cary McConnell and President Kelly for having the vision to upgrade the program to join this league."
"
Moving to the NEHC shows the growth of this program. Playing in this league was something most people would never think would happen."
— Head coach, Chris Glionna
This is not the first time that Suffolk's hockey program will transition to a different league. The team made the switch from the Eastern College Athletic Conference  (ECAC) Northeast to the CCC in 2015. Their last season in the ECAC they picked up 13 wins, the most a Suffolk hockey team has had since 1992-93.
Last year, the team finished with an overall record of 9-13-3 and a conference record of 6-10-2. They closed the season with team totals of 105 assists, 69 goals and 32.6 shots per game.
With a little more than half of the roster filled by underclassmen, it is important that the team has a structured sense of leadership. Seniors Sean Henry and Mikhail Bryan were recently named captains of the team.
"There's more responsibility being a senior," said Mikhail in an interview with The Journal. "I look back to when I was a freshman and you don't know much about the seniors, but you look up to them. It's on you to set that example."
With a bond that extends off the ice, the team does more than just play hockey together. Glionna explained that academic excellence and giving back to the community are major priorities for players.
On Sept. 30 the team took to Allston where they volunteered at the 15th Annual Brian J. Honan 5K Road Race.
"I think we understand how fortunate we are to get to attend such an amazing academic institution [where] we stress community service," said Glionna. "I never want these players to take for granted what their parents have sacrificed to give them this opportunity."
Mikhail estimates that each player puts in nearly 20 hours a week to the hockey program. The team has been working tirelessly the past month and will play their first official home game of the season on Oct. 26 at 7 p.m. versus Franklin Pierce University.
The Rams look to make a playoff push this year and exceed expectations by making it past the first round of play.
"I cherish everyday I can go to the rink and work with the team," said Glionna. "I am very proud to say I steward this program."
Leave a Comment
About the Contributor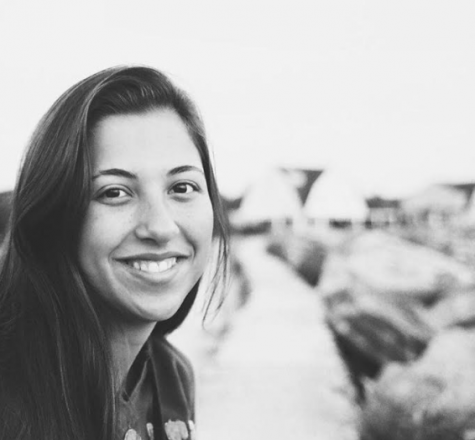 Hannah Arroyo, Sports Editor | she/her
Hannah Arroyo is a junior, the Sports Editor, and a Broadcast Journalism major who hopes to work in sports media someday. She passionately follows New England sports and can often be found exploring new spots in Boston. She enjoys going to Fenway Park, searching antique stores and pranking her friends. By writing for The Journal, she hopes to improve her journalism skills and eventually explore writing stories that differ from sports.