Goodnight Gambino
Donald Glover performed as Childish Gambino for the last time in Boston as he finishes his music career
Hang on for a minute...we're trying to find some more stories you might like.
Thirty-four-year-old Donald Glover, better known as Childish Gambino, sold out TD Garden in Boston, Massachusetts on Sept. 12 and performed a breathtaking 80-minute show. His "This is America Tour" is coming on the heels of his Grammy-winning album "Awaken, My Love!"
"Put your phones away. Let's just have this moment. This is the last Childish Gambino tour," Donald Glover urged the crowd.
Gambino has been telling audiences that this tour will be his last.
It was a bittersweet moment for fans who wanted to cheer for the enigmatic star, but did not want to believe it was the last time they would see Gambino perform live.  
Wearing just a pair of loose-fitting jeans and no shirt, Gambino belted each note with more authority than the last, while still managing an elaborate array of dance moves. Songs like "Terrified" and "Redbone" seemed to double in length as the fans continued to sing the chorus' endlessly. Blue beams of light shone down from above the stage synchronized to the songs making Gambino flash in-and-out of sight as he sang.
The tour was aptly named after his polarizing music video and recent single, "This Is America," which currently has over 396 million views on YouTube. The song propelled him into the headlines of publications around the country, highly due to the music video. Laden with metaphors and political messages, the video is meant to call awareness to gun violence and racial inequality, as we all dance our way through life with complete indifference to the problems going on around us.
When it came time for Gambino to perform his most popular song out right now, the crowd was ready, roaring out of excitement. With his highest level of energy throughout the night, Gambino tore into the microphone jumping up and down to the calls of "This is America!" The crowd reciprocated his energy, and everyone bounced in-sync with the superstar. The whole arena felt as if it would collapse at any moment. As the song came to a close, he lowered his head as the lights became dim. Exhausted, and deservedly so, he put the microphone back in the stand and walked off stage, leaving the crowd breathless.
After a quick intermission, the two flat screens that floated above either side of the stage showed a section of the crowd which upon closer inspection included Gambino himself. As Gambino walked through TD Garden, the camera followed the star, showing each section erupt as he passed by. Fans screamed and extended arms as far as they could to try to reach him while he appeared unfazed and continued to perform. The music grew louder as he approached the stage and the climax of "Stand Tall" created a steady build of anticipation amongst the crowd of the encore. As soon as he hit the stage the song switched to his rock 'n' roll love ballad "Me, and Your Mamma," and if you weren't a Gambino believer before, you were quickly immersed into the Gambino culture.
Emulating the sounds of seventies rock and funk, this was one of the performances that best showcased his versatility as an artist. He was able to switch between rhythm and blues, rap and rock seamlessly throughout the entire show.
After what felt like hours of constant, "GAM-BIN-O, GAM-BIN-O" chants from the restless fans, the floating TV's finally turned back on. The screens showed Gambino, standing inside the tunnel at TD Garden, as an NBA player would.
There he was standing shirtless, breathing heavily, sweating profusely. He glanced at the camera and the arena erupted again, even louder than before. He raised a single hand to his ear soliciting more cheers from the crowd.
The crowd obliged and after a few more gestures for louder and louder screams, he finished his drink in one quick gulp and grabbed a microphone. The crowd was ecstatic, celebrating the work they had done to deserve an encore. A single blue beam of light flashed down to the center of the stage as Gambino slowly rose up on a platform from below. Songs like "Sober" and "3005" brought Gambino fans back to his early days of  lesser fame.
With two Golden Globes, two Emmys and a Grammy among other awards and nominations, it's almost an accomplishment that Donald Glover still has the capacity to perform sold out concerts across the country.
As he thanked the crowd, exhausted and out of breath, he made no more mention of this being his last tour. Instead he left with a simple wave saying, "Goodnight Boston."

About the Writer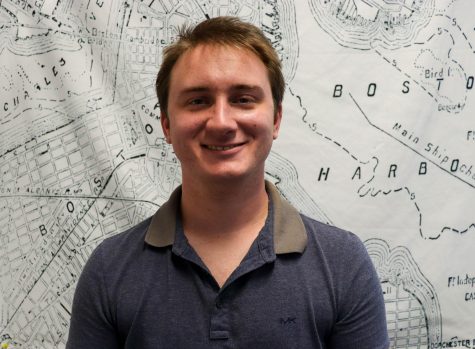 Eddie Reinhardt, Assistant Arts Editor
Edward Reinhardt is a broadcast journalism major and public relations minor who has a passion for writing. Born and raised in Massachusetts, Boston offered a chance to get out of the suburbs while staying close to family. He enjoys covering concerts and interviewing artists and hopes to one day make a career of it.