SGA brings 'rockstar' Post Malone to Royale
Suffolk University students filled Royale nightclub last Wednesday to see rising rap artist Post Malone for the Student Government Association's Fall Concert.
Post Malone, full name Austin Post, started the year with a small following after the R&B album "Stoney" came out last December, with his claim to fame being his breakout single, "White Iverson." Since June of 2017 he has been on the top of the charts with songs "Congratulations" and "Rockstar."
Preceding his arrival on the Royale stage, the word "Stoney" was chanted in unison by the crowd followed by the word itself projected on the stage screen. Post Malone then came down the stairs to the right of the stage wearing baggy camouflage pants and a long t-shirt that read "Stoney" on the back while holding a beer in hand, face splitting grin in tow.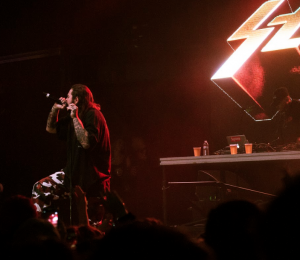 Post Malone opened his show by making a tribute to rapper Lil Peep, who was good friends with Post and recently passed away from a drug overdose at the age of 21. Following the initial tribute, the rapper, sporting a new tattoo for this late friend, echoed the sentiments by singing "Too Young." The song starts with repeated crooning of, "I don't wanna die too young, too young, too young."  With lyrics like these, Post Malone showed emotion through his voice, lyrics, pointing upwards, and closing his eyes, in light of Lil Peep.
When the chorus came the second time around of his song "I Fall Apart," the rapper's DJ stopped the music and let the crowd sing the lyrics "Ooh I fall apart" with the lights from the stage shining upon the crowd.
Between every song Post Malone thanked the crowd and would banter about how he is "too fat to do this."
"I [mess] with y'all," said the rapper while on stage. "I just wanna see you be getting good GPA's and good grades, y'all should be out studying not at a Post Malone concert."
He smiled with his grills in and sang lyrics, letting his passion consume him while dancing to the beat, and said how he is grateful to the people who support him and for their unwavering support has allowed for his career to escalate so quickly.
"We got the number one song for seven weeks now and I just wanna thank you for all your support," said Post Malone who referred to his song "Rockstar."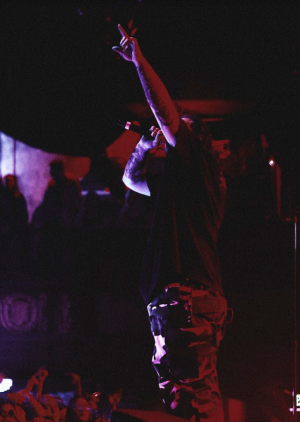 After performing for about 40 minutes the artist bantered with the crowd by telling the story of how he became involved with music, starting at the age of ten when he received his first guitar.
"I was fifteen when I put out my first mixtape." said Post Malone. "There were a lot of people that supported me, but there were too many people that wanted to tear me down. I moved to California [with] not a dollar in my name. One night I just got lucky and I put out one song that just changed my life. And now that everything is changing, I see the same people that
use to talk badly and put me down, and now those are the same people that say  "'Congratulations.'"
View more photos on Uncovered with Flash.