Vitality. Energy. Compassion. Talent. Commitment.
These are the words Doctor Marilyn Plotkins used to address the cast and crew of Suffolk University's most recent production, "3Sisters," when huddled around her after the curtain dropped on the shows opening night on Thursday Nov. 16.
The tenacity and passion displayed by the 18-student clad show was undeniable unmistakable.  Full of laughter, tears and bountiful emotion, the adaptation done by Director Robert Kropf was simply marvelous.
Set in a futuristic dystopian Russian suburb, the play follows three sisters – Olga, played by sophomore theatre major Courtney Bouchard, Masha, played by junior sociology major Allison Blackburn and Irina, played by junior theatre major Amanda Lococo, as they navigate jobs, academics, relationships and the inner complexities of life. Spanning several years, the three girls experience confusion, desperation, love and the lack-thereof, loss and confrontation.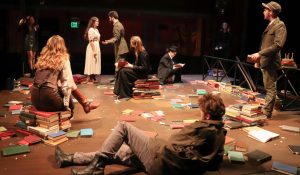 The play itself is wildly chaotic, with a depressed doctor, sad sisters and a witchy wife, it appears to be almost 12 Shakespearean tragedies rolled into one two-and-a-half hour production.
What's important, however, is to note is the excellent chemistry between all of the cast members, and the impact it left on Kropf.
"I've never had the experience where the characters walked in the room," said Kropf in a post-show interview with The Suffolk Journal. "I had no expectations but then it just kind of unfolded in a way that is slightly magical and rare. The sisters happened to be really great friends in life, but I didn't know that because I don't know them. But there was something that I picked up on and tapped into, or observed, after I got to know them it happens to be a very close-knit group," he said.
A headstrong leader, Olga is the oldest of the three. Unmarried and intelligent, she is the lady of the house until her brother Andre, played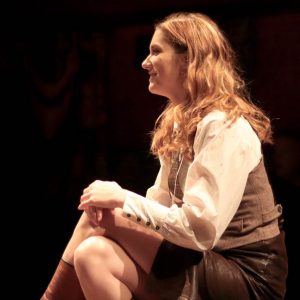 by junior theatre major Justin Peavey, marries an insufferable, high-maintenance and high-strung woman named Natasha.
Peavey elicits an iconic image of the degraded, easily manipulated, "yes dear" pathetic husband, the kind of personality that stems from the heavy thumb of an overbearing and semi-psychotic wife. Conceited and narcissistic, Natasha, played by junior theatre major Julia Bregy, drives a solid wedge between the family members.  Bregy does a marvelous job as the petite and shrill wife.
The sisters in their own regard, have to balance work, love and patience as they await an ever-present promise of moving away from their current suburb and hope to eventually migrate back to the illustrious "Moscow." Lococo as Iriana is the image of innocence. The youngest and most naive of the three, Irina wants nothing more that to move back to her home town, find romance and a new life. Until she becomes fond of Baron Tuzenbach, played by junior theatre major Liam Grimaldi, who is a soldier in the army. Though she wins the heart of a few men, including Tuzenbach, none seem to catch enough of her eye to keep her in her current depressed position.
Masha, the middle child and the token cynic of the group, is loathsome toward life and is frustrated with the way her own unfolded. After marrying young to a professor she admired, she found herself in a loveless marriage and bored with her current existence. After reuniting with an old friend, Vernisher, played by senior theatre Jack Aschenbach, Masha finds a newfound lust for life, despite her marital status.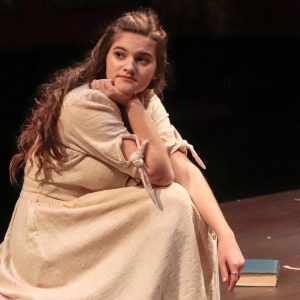 Throughout the production, the characters pose the questions, "Why do we live," and, "why do we suffer?" As though there were an answer to either of those. Perhaps the answer is in Plotkins post-show words. Vitality. Compassion. Commitment.