National anthem protests conversed at Suffolk
In 2016, former quarterback of the San Francisco 49ers, Colin Kaepernick, took a knee during the national anthem during a preseason game as a form of protest against police brutality inflicted upon minorities across the U.S. Ever since, there has been an array of opinions formulated amongst the general public and mass discussion regarding the provocative form of protest.
Students and faculty gathered in Sargent Hall on Thursday, as Suffolk University welcomed Trinity College Emeritus Professor of philosophy Drew Hyland to lead the discussion "On Our Knees: Sports, Race and America," concerning the legitimacy of kneeling during the national anthem in the NFL. Hyland, who played college basketball during his time at Princeton University, is no stranger to sports and their impact on society and social issues. He is also one of the founders of the philosophy of sport.
Though taking the knee was initially seen by many as an insult to the American flag and to the U.S. military, Hyland pointed out that Kaepernick specifically knelt to show respect. Hyland noted that kneeling is seen as a respectful gesture in many other situations, such as marriage proposals and churches. If players turned their backs to the flag, it may be more explicitly perceived as disrespectful, proposed Hyland
"It's good to just remind ourselves of the context in which this something like this is happening," said Hyland. "The tradition in this country [is] of nonviolent resistance which is very, very important; but it did not always remain the case," making reference to the Civil Rights Movement of the 1960's.
Hyland also spoke to how athletes in the past and present voice their take on social issues facing society.
"By and large, well-known athletes have not been notably active in civil rights activities. A sign of this, I think, is that the exceptions are quite famous," said Hyland.
One example of such an athlete was famous boxer Muhammad Ali, who spent time in prison after speaking out against the draft during the Vietnam War.
"Especially given their public visibility and access to media attention, I think it's fair to say that athletes have not been particularly active in civil rights activities, which is all the most strange given that many African Americans are successful professional athletes," said Hyland.
Of the students who attended the conference, senior politics and philosophy major Norma Buyund agreed with Hyland's point.
"Minorities who have power, such as those in the NFL should be the ones to speak up, because they have a bigger platform," said Buyund in a recent interview with The Suffolk Journal.
The lack of involvement by athletes in civil rights activism can be credited highly to two reasons according to Hyland: the setting of a sports game as an entertainment venue and the stigma regarding "jocks" perceived lack of awareness to social issues.
"Many fans, I suspect, want it this way. Sports games, after all, are entertainment. Fans go to games to have a good time, not to think about the problems this country has," said Hyland.
Despite this, Hyland did point out that athletes have been increasing their involvement on racial issues. He alluded to the incidents in November of 2015 when the University of Missouri football team threatened to boycott football activities. Two days later the university president, Tim Wolfe, resigned because of poor handling of racially charged incidents on campus.
The talk was one event of a twelve-part series titled "Before and After Charlottesville Initiative," put on by Suffolk in response to marching of white supremacists at Charlottesville in mid-August of this year, according to Chair of the Philosophy Department Gregory Fried.
Leave a Comment
About the Contributor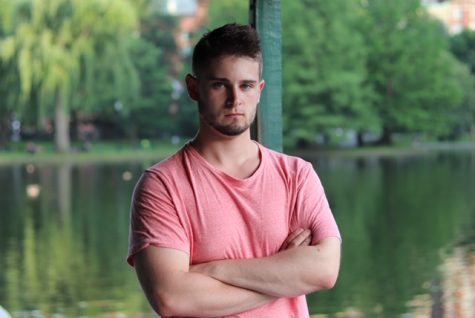 Ryan Arel, Former Senior Staff
Vermont native Ryan Arel is a former Arts Editor and former Opinion Editor for The Suffolk Journal. A print journalism major and economics minor, Ryan aspires to become a versatile writer who can cover any story of any topic that is worth telling.

Passionate about sports, photography, and history, Ryan also hopes to write and research in a way that makes complex issues easier for readers, and himself, to understand.

After leaving Suffolk, he hopes to work in the media field and stay in Boston, but he does not duck away at the idea of maybe traveling someday for work. When he isn't in the office, he can be found scream-typing homework assignments and stories, at the gym, watching "The Office" reruns or The Red Sox, his favorite sports team.

Follow Ryan on Twitter @ryanarel.