Think Pink: Small efforts shine while campus neglects awareness
For many, fall is associated with an almost instantaneous shift in color to vibrant reds, oranges and yellows, but at Suffolk University, for at least one day in the month of October, the city campus used to be awashed in pink.
The university used to have a campus-wide awareness event, formerly known as "Stand Up For Pink," where the Suffolk community gathered as a sea of pink t-shirts and formed a pink human ribbon inside the Ridgeway gymnasium to show their support and solidarity in raising awareness. The event, hosted by the Athletics Department, invited speakers from across campus to participate and discuss their efforts in raising breast cancer awareness.
Those days have passed and university-wide efforts have since decreased, but breast cancer awareness has remained important at Suffolk. Current faculty and students have been making limited, but significant, efforts to keep awareness present throughout the university.
This month bears the weight of Breast Cancer Awareness, a title that comes with immense stature and stigma. As of late, efforts have been made to eradicate the world of the horrors that stem from the disease. The first step begins with raising awareness.
The Suffolk University Police Officers have taken a stance in the national campaign for breast cancer awareness, Pink Patch Project, and are included in the 22 participating forces including the Massachusetts State Police, among fellow Boston university police departments such as Massachusetts College of Art and Design. According to Sergeant Jameson Yee, the SUPD has taken it upon themselves to wear a pink patch in support of two fellow sergeants, who are currently undergoing treatments for cancer themselves.
"Unfortunately, everyone has been affected by cancer one way or another," said Sergeant Yee in a recent interview with The Journal. "Through the pink patch project, which is a national movement, it's one to obviously start conversations so people can talk, support and also learn more about breast cancer and cancer awareness."
Senior biology major Olivia Huber participated in the American Cancer Society's 2017 Making Strides Against Breast Cancer walk on Oct. 1. Baugniet participated with Suffolk University's Theta Phi Alpha chapter in order to contribute to the cause and show support.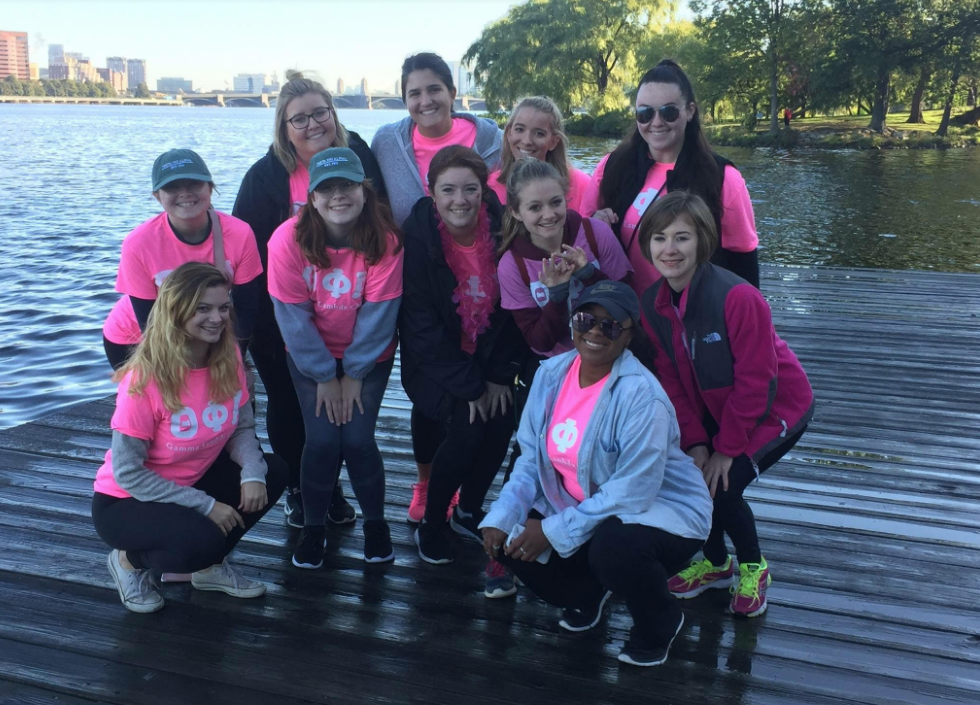 "Breast cancer has affected so many people, and so many of the sisters know someone who has suffered from it, or some other form of cancer," she said. "It's always incredibly heartwarming to see how many people come out to support the cause and what a positive event it is."
Radiation Science Program Director and instructor of the Introduction to Cancer Care course, Jessica Mak, has taken the initiative to begin raising awareness by starting with her small classes.
Mak told The Suffolk Journal in a recent interview that because breast cancer is a prevalent disease, she feels it is important for individuals to know and understand the causes, risks and other contributing factors so that they can educate themselves and practice healthy lifestyle habits.
"I imagine most people understand cancer is a bad thing, but I don't know if people understand how it works," said Mak. "I feel like the more people that can know about it the better."
In her course, which is a highly anticipated and sought after class according to Suffolk students, Mak discussed the top 10 cancers in the United States, including breast cancer. Ranked as the second most common cancer, behind melanoma, found in both men and women, breast cancer is the most commonly diagnosed cancer in women alone, according to National Breast Cancer Foundation, Inc. The course has also taught of the specifics on pediatric cancers, nutrition and exercise, complementary therapies, cancer prevention and self-identification.
For select dates in October, Mak organized a "pink day," within the two sections of her Introduction to Cancer Care course, where she awarded students extra credit to wear an article of pink clothing to class. Mak told The Journal that by doing this, students would have a window of conversational opportunity to talk about breast cancer, effectively raising awareness amongst students.
To contribute to the Pink Project, visit irwindaleca.gov/index.aspx?NID=363.
If interested in supporting the cause on a larger scale, visit one of the nation's leading breast cancer research foundation's: visit the National breast cancer foundation at nationalbreastcancer.org, the American Cancer Society at cancer.org/cancer/breast-cancer.html, and the Breast Cancer Research Foundation at bcrf.org.
Leave a Comment
About the Contributors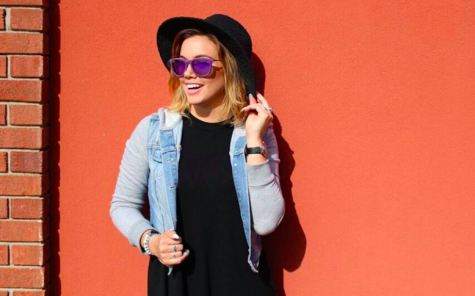 Brooke Patterson, Past Sports Editor
As a senior majoring in Journalism Print/Web, Brooke Patterson strives to not only bring a positive light to her stories, but also those around her. Despite the fact that her sports career has ended, Patterson remains involved with her love for athletics through The Suffolk Journal as the Sports Editor. She is currently exploring life in the city of Boston and will never hesitate to stop to pet a dog as they walk by her. Although Boston will forever be her home, Patterson hopes to explore and use her degree in other cities, such as New York and Los Angeles.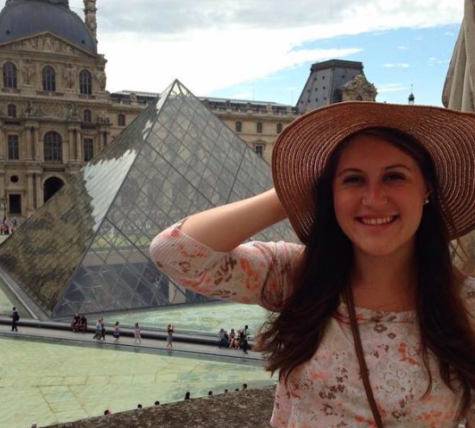 Felicity Otterbein, Past Arts Editor
As a member of the Best Friends of Friendly's Ice Cream Club, Felicity enjoys not taking life too seriously. She appreciates all walks of life and accepts all those who are willing to share a smile. 
As the Arts Editor, she enjoys uncovering new music and discovering the hidden gems of the Boston and Suffolk arts communities.  She enjoys supporting both her friends and university by attending and reviewing Suffolk-based art by featuring the array of talent that can be found on campus.
She prides herself on her uncanny ability to document every waking moment of her dog, Shadow, and can most always be found with an iced coffee in her hand. If you're looking for her, she's usually at her desk inside of The Journal office watching SNL reruns or galavanting through the Isabella Stewart Gardner Museum.