Cabaret: Spotlight shines on Rampage show Choir's Cabaret
The third floor of Sawyer was alive with the sounds of the silver screen on Saturday night as performers took to the stage for the Suffolk University show choir's annual Cabaret.
Members of Rampage, performed a variety of musical numbers taken from Hollywood blockbusters, as the theme this year was "Lights, Camera, Rampage."
The show began with a rendition of OneRepublic's "Love Runs Out," which featured all of Rampage's 16 members. The performance was a well-received opener for what turned out to be a stellar production. The choreography for Rampage's group numbers was arranged by sophomore dance captains theatre major Kelsey Whipple and fine arts major Julianna Fielding, and complemented the musical arrangements quite nicely.
As one of the standout independent acts of the evening, sophomore Rebecca McAuliffe belted out a soulful rendition of Etta James' 1962 hit "Something's Gotta Hold On Me." As she sang, junior broadcast journalism major Felicity Otterbein and sophomore business major Charles Tang added some background vocals.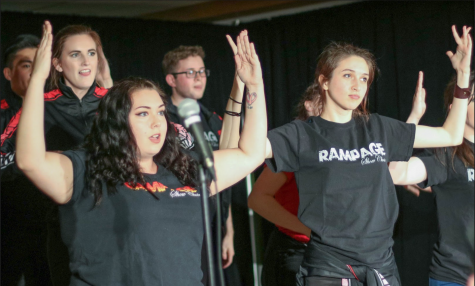 Saturday's cabaret was the last curtain call for Rampage's seniors; they really stole the show, both in group performances and individual acts. Rampage president and senior public relations major Victoria Laroque and senior marketing major Casey O'Leary took on the roles of Simba and Zazu for a duet of "I Just Can't Wait to be King" from the 1994 animated hit "The Lion King." Laroque returned in the second act with McAuliffe to perform "The Cup Song" of "Pitch Perfect."
"I started show choir in high school," Laroque told The Suffolk Journal during the post-show reception.  Her passion for the arts began long before she became a Ram.
"I loved show choir in high school, and knew I wanted to continue with it or something like it, and Suffolk was the only school near me that had a show choir," she said. Laroque, a marketing major from Lowell, Mass., said that as she researched more about the school, it "all fell into place."
One of the most well-received acts of the night featured junior marketing major Kevin Landers and junior theatre major Victoria Isotti as Ryan and Sharpay Evans of "High School Musical" performing a rendition of "Bop to the Top." With an audience comprised of those who grew up listening to and appreciating the franchise, this particular number was received with rounds of applause and a brief trip down memory lane.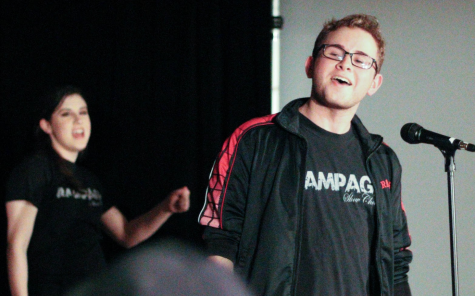 It was with the second to last act – the senior number – when it became apparent that the seniors realized what was already known: this is it. The cohort of four took to the stage to perform "Come So Far (Got So Far to Go)" from "Hairspray." While the quartet was all smiles as they maneuvered around the stage singing the classic show tune, even the audience could tell that there was something very different about the final curtain call. Based on the facial expressions of the small group, it was clear that they realized that this would be one of their last performances with the group.
As a whole, Rampage delivered what is quickly becoming their standard performance: well-executed without the sort of phony "put-togetherness" of other show choirs. There was a certain charm that the group displayed that doesn't really exist amongst other performance groups. And, with an increasingly competent group of underclassmen taking the stage, Rampage is in good hands for years to come.
Leave a Comment
About the Contributor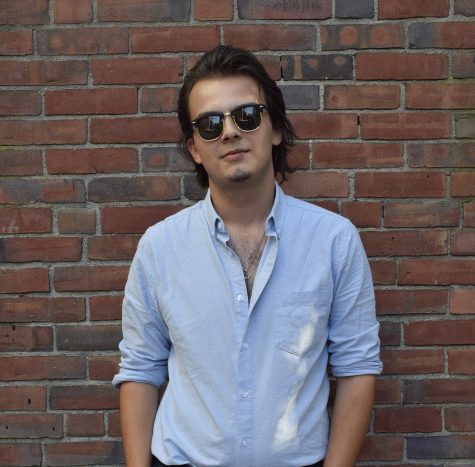 Nick Viveiros, Senior Staff Writer
Nick Viveiros is a senior majoring in Politics, Philosophy & Economics and Journalism. Born and raised in Fall River, MA, he began writing for the Journal in the fall of 2016.
Nick published his first book, the poetry collection this new world, during his first semester of college. His second book, Love Across the Zodiac, was released through his company, Quequechan Press, in mid 2019.
Follow Nick on Twitter @thenickviveiros 
or head on over to his website, nickviveiros.org