Smith's agenda seeks to strengthen Suffolk
As a Student Government Association (SGA) senator and member of the diversity committee, Levi Smith's campaign for the position of Vice President has been based on a platform of embracing diversity.
In an interview with The Suffolk Journal, Smith spoke of how running for SGA Vice President is based around four specific platform; diversity and inclusion, reengineering processes within SGA, addressing student engagement and aligning values within the Suffolk community. With diversity the most important aspect on his mind, Smith said he has been working on a resolution revolved around implicit bias training for faculty. Smith referenced a scenario from the 2016 fall semester in which a Latina student said she was accused of plagiarism; the vice presidential candidate discussed that implicit bias training would provide a level of accountability and prevent a similar situation from happening again.
"You're a Suffolk student, you're a Ram at the end of the day," said Smith.
Smith said releasing content at optimal times on social media is one way to promote SGA in order to express to students that there is an organization on campus in place to field their concerns. With students able to utilize SGA and know that this organization truly cares about them, Smith said this can open up doors. In order to open the doors up to students, Smith said that emphasizing student clubs and organizations on campus is a vital component.
"They're like the circulatory system of Suffolk. They're the blood, they just make Suffolk flow," said Smith.
Smith said one of the most crucial aspects of the role of vice president is gaining the trust of the Suffolk students in order to collaborate with those in need in order to resolve problems. Not only does Smith believe student groups need to be more involved in the community, but administration needs to as well.
"At the end of the day these initiatives make Suffolk stronger," said Smith. "And with strength comes more attention and marketing. And that's important because [Suffolk] growing."
Personal success is not a factor in Smith's outlook, as he said collaborative success is vital and he gives credit to the current SGA executive board. He said he believes the transition between executive board members this year will be smooth, due to a strong infrastructure that has been cemented within the organization.
Alongside SGA, Smith said the university is also heading in the right direction. Even through recently publicized events portrayed throughout various media sources, Smith's view of Suffolk as a whole has not swayed.
"I have never lost faith in Suffolk, ever," said Smith.
Leave a Comment
About the Contributor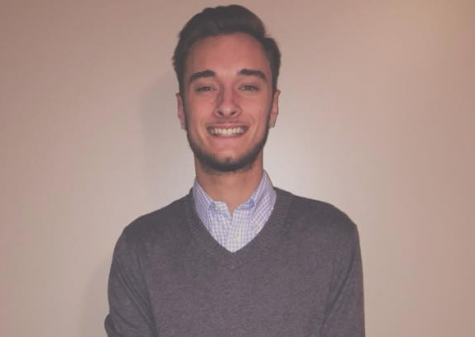 Chris DeGusto, Past News Editor
As someone who truly has no idea exactly what he wants to do in life, Chris' desire is to help those he cares about achieve their dreams. Chris welcomed a role that he never envisioned himself in; one that drives him insane.
Chris loves to tell stories, hence his passion: writing. If he's not in The Journal's office, you can find him catching up on the Sox or Celtics, studying the stock market or (unfortunately) riding the T to his favorite place in the world, Boston.
One day Chris hopes to write a book, well, actually finish a book he has already started. With a plan to travel the world and provide insight about his life experiences through his writing, Chris will always be attached to the city he calls home. And while he loves Boston more than anything, one reason why his book is not finished is because it doesn't have a suitable ending; he has a hunch that one day life will lead him to the west coast, to write him a new story.