Batalvi wants SGA action to push Suffolk to the top
Suffolk's Student Government Association (SGA) will be welcoming a new Vice President for the 2017-2018 academic year; a position SGA senator Yasir Batalvi hopes to attain.
"We have so much promise and so much potential," said Batalvi. "Suffolk can truly be a world-class institution – we can really be one of Americas great schools because here we are in the heart of this amazing city"
With Suffolk being located in downtown Boston, Batalvi said one of the priorities he intends to tackle if elected SGA Vice President is the lack of campus cohesion. A lack of structure Batalvi said hampers the entirety of Suffolk's community to intertwine, and while he said certain organizations and individuals on campus are producing great work, this is not enough. He has been working to launch a Suffolk University mobile app, and currently has a working prototype developed, which he said is intended to be a "one stop shop."
In order to engage in repairing campus cohesion, Batalvi intends to initiate a "Welcome Week" at the onset of the academic year. Incoming students are brought into the university community at orientation but then are without any contact with Suffolk for the summer, a problem Batalvi said needs to be addressed. With his proposed "Welcome Week," Batalvi said students would participate in a number of both educational and entertaining activities and sessions for the first week of school in order to establish relationships and acclimate to the community at Suffolk.
"It is the cards were dealt," said Batalvi. "I mean Suffolk University is an urban campus. It's in the heart of a metropolis. That's part of the problem and that's where the challenges lie. We have got to pull out a good hand out of that deck of cards."
As an international student from Canada with Pakistani heritage, Batalvi discussed the time he has spent so far within SGA, and spoke of conversations he has had with members of the administration on the subject of prospective international students. The vice presidential candidate said that Suffolk needs to have concrete evidence to provide to prospective international students and their parents that they are welcomed within a conducive environment. Batalvi said that SGA can play a role in this, but needs to get off its back foot by passing real legislation. He said action is a forefront on his mind, so that SGA can be the force he believes the organization can be in enacting change for the students.
"I think SGA has played a fantastic role," said Batalvi. "With [President Donald Trump's immigration] executive action that came out – I think [SGA President] Sean Walsh's letter was on point. I think so was [Acting University] President Kelly's. So what I really believe is what we've actually got to do now is start working together on actual actionable items."
Editor's Note: Due to a reporting error, in a previous version of this article, the last name of the VP candidate was spelled "Botalvi." The correct spelling is "Batalvi" as indicated in this version. 
Leave a Comment
About the Contributor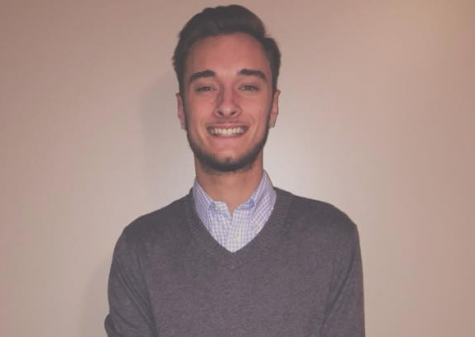 Chris DeGusto, Past News Editor
As someone who truly has no idea exactly what he wants to do in life, Chris' desire is to help those he cares about achieve their dreams. Chris welcomed a role that he never envisioned himself in; one that drives him insane.
Chris loves to tell stories, hence his passion: writing. If he's not in The Journal's office, you can find him catching up on the Sox or Celtics, studying the stock market or (unfortunately) riding the T to his favorite place in the world, Boston.
One day Chris hopes to write a book, well, actually finish a book he has already started. With a plan to travel the world and provide insight about his life experiences through his writing, Chris will always be attached to the city he calls home. And while he loves Boston more than anything, one reason why his book is not finished is because it doesn't have a suitable ending; he has a hunch that one day life will lead him to the west coast, to write him a new story.