Arts magazine hosts open mic to find new writers, submissions
To generate hype for their magazine, the editorial board of Venture Literary/Arts Magazine held an open mic night for those willing to share their work. The night became a literary safe space as students bravely stepped in front of the crowd to share their intimate poems.
"Venture" has been publishing yearly since 1967, but has taken its new identity only a few years ago. The magazine began as a literary magazine, but according to their website venturelitmag.com, in 2005 the editorial staff decided to add an arts section to showcase the extensive variety of art created by students from the various departments at Suffolk University.
"It's opened me up to the creativity of other people, because when you're in one department like English, you don't think that other people, in say accounting, would write, or create, art," said Brenna Lopes, the Editor-in-Chief of the magazine.
Both Lopes, a senior majoring in English, and Sofia Ohrynowics, the social media manager and junior English major, have noted the importance of the magazine. In an interview with The Suffolk Journal, Ohrynowics spoke of how important it is to continue the tradition of print publishing.
"Starting for a university student-run club, shows that even the small things count," said Ohrynowics. "It's everyone that puts their foot forward, it keeps the industry alive."
Lopes, who is a Senior English Major, has a team of editors from various majors that help her choose which pieces get published. The editors are waiting until the deadline before they decide what theme is most prevalent amongst the submissions, but they have noted that deeply personal reflections, some embedded with politics, is something they see is important to those submitting.
Their first night proved to be so successful, hosting around forty students, they decided to hold the event more often.
"I think that in order for you to remember that you're not just a student, but an actual human, it's important to feel the emotions of other people, and this is a place that is very open," said Lopes. "Where else can you be this intimate, dark even? You can't expose this part of you like this in class."
Their most recent open mic night had students share not only intimate lines of poetry, but even experimental pieces that they have put many hours into. One student, Ryan Mettler, shared their untitled poem that they qualified as an "aliterlimerick" which is a limerick that has alliteration throughout.
"On a mundane Monday morn,/Molly Mahoney was marked for murder,/But her husband hadn't hushed his horn,/And so he hadn't hear her/Being beaten/By that blue-eyed, black-haired bastard/Baxter Barney;/A crazy cretin/Who killed a couple Catholic kids/in the Kingdom of Kilarney"
The open mic night is not the only event lined up to promote the publication. Lopes hopes to have plenty of students for the launch party that they have planned for the end of the semester.
"We're making the launch party like a gallery showing in Sawyer. We'll have a bunch of food, we would like a Suffolk band to perform, professor's will speak and we'll have people read their poems from the book," said Lopes.
Venture has extended their invitation to all Suffolk Students to participate in their event as a way to have more voices be heard, not just those on staff. They invite all who enjoy writing poetry, fiction, non fiction, essays, plays, songs, articles, artwork, photography and comics to both read their work and to submit it as well.
Leave a Comment
About the Writer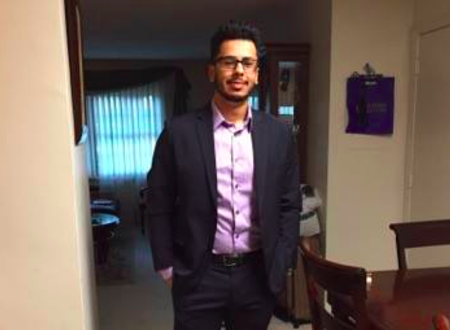 Nathan Espinal, Senior Staff Writer
Student pursuing a double major degree who's also writing articles for a paper with integrity. Usually stress eating in the library.