The Titanic, lost love and a new storyline to the old tale
Heartbreak is timeless and relatable to all those who have experienced it. However, it can only go one of two ways. Either the boy or the girl wins over the other's heart after a montage of long walks in the rain and lonely coffee shop visits, complete with some sort of graphic apology or love confession, or ultimate tragedy sets in and heartbreak stems from permanent loss of said loved one which we've seen time and time again. Author Scott Stevens opted for the latter in his historical novel, The Lost Deposition of Glynnis Smith McLean, a story of love and loss aboard the RMS Titanic.  The story itself follows Ireland native Glynnis Smith, whom we get to know through her diary entries starting when she was eight-years-old in 1903 and ending when she is 17 and aboard the Titanic itself. She talks about her education and her excitement about growing up, her hopes of one day going to visit America and the unconditional love she has for her family.
Then, her life is changed when she meets her new neighbor who becomes her ultimate best friend and husband, Ian McLean. Like all young people, she's excited to have a new friend and is fascinated with his involvement in her family's farm work, considering he has his own family and can follow his father, who is a banker, around and learn from him. Glynnis is intrigued and becomes incredibly fond of Ian and shares her private thoughts with the reader regarding him and the feelings she has towards him in her diary.
Experiencing the maturation of Glynnis' and Ian's relationship over the documented years really makes the reader feel comfortable with the characters. There is never any kind of Hollywood-esque kind of cheesy romance where the girl is cute and quirky and her clumsiness is attractive to the boy who is way out of her league and they bond over some obscure commonality between them. Glynnis and Ian are as easy as falling asleep. It's right, it's natural, it's comfortable.
Similarly written like the "Diary of Anne Frank," the reader lives vicariously through the eyes of teenage Glynnis. Her thoughts and feelings are easily accessible and relatable to all who have experienced the ups and downs of young love and friendship.
In a diary entry from Glynnis' formative years she writes, "Schoolmates have long said we were an inseparable pair, and we are proud to be so! I'm fifteen years old now, and he's seventeen – and we're already old and comfortable mates. He sits here with me as I write this and smiles, yet he's never moved to compromise me nor have I ever encouraged him to. We are best friends – and more. Much more."
Being a teenager, let alone a teenage bride, it's easy to get caught up in the dramatics of young love and passion which is why "The Lost Deposition" is such an amazing and approachable story. It's heartache is relatable and the strength that the characters show when faced with adversity is so inspiring it really forces the reader to sympathize with them and understand the urgency of that fateful night on the Atlantic.
Scott Stevens is currently working on a new novel which he described as a cold-case murder mystery and is very much looking forward to the new contemporary tale.
Leave a Comment
About the Writer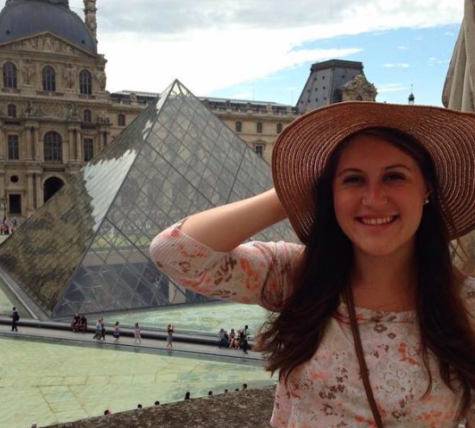 Felicity Otterbein, Past Arts Editor
As a member of the Best Friends of Friendly's Ice Cream Club, Felicity enjoys not taking life too seriously. She appreciates all walks of life and accepts all those who are willing to share a smile. 
As the Arts Editor, she enjoys uncovering new music and discovering the hidden gems of the Boston and Suffolk arts communities.  She enjoys supporting both her friends and university by attending and reviewing Suffolk-based art by featuring the array of talent that can be found on campus.
She prides herself on her uncanny ability to document every waking moment of her dog, Shadow, and can most always be found with an iced coffee in her hand. If you're looking for her, she's usually at her desk inside of The Journal office watching SNL reruns or galavanting through the Isabella Stewart Gardner Museum.