Four men stood on the small stage at O'Brien's Pub in Allston, MA. Only three of them were wearing shoes. That's because Michael Mirabella of Jack Romanov preferred to never wear shoes during a performance.
The Boston-based band has been working together for the last two years after Mirabella joined the group when he was a solo project who opened for them years ago. He assumed the role of lead guitarist and his personal manager Ashley Sousa followed him, assuming the role of Jack Romanov's band manager.
In a recent phone interview with The Suffolk Journal, bassist and synth player Esteban Cajigas said each of the four members bring their own personal music tastes into the production of new songs. That was certainly evident during their performance.
If Brandon Flowers from The Killers and Lana Del Ray decided to collaborate, the end result would be exactly the sound of Jack Romanov. Their eclectic ensemble is haunting and impossible to forget. Comprised of a bass, a synth, a guitar, a keyboard and a set of drums, the quartet produces song after song, each one more complex than the last.
Lead singer and keyboardist Nick Aiken gave an enchanting performance and demanded attention on stage. His low and soulful voice paired with the chilling music provided by Cajigas and Mirabella on the bass, synth and lead guitar respectively provided the audience comprised of friends and family with a memorable performance.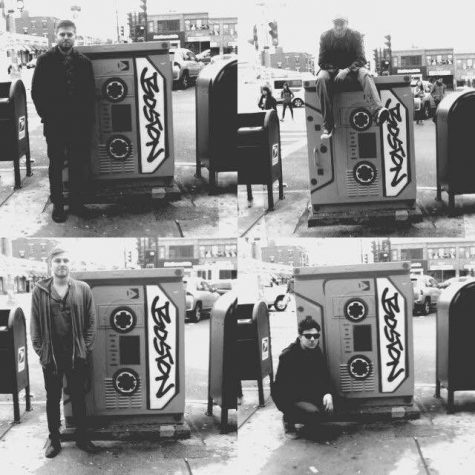 Shoeless Mirabella was a tornado on stage. Twirling around a tangled guitar cable on the stage floor sock-footed, it looked like at any moment he would surely trip and fall with heavily stickered guitar in tow. However, he remained completely vertical the entire performance and was a huge stage presence with his jumping and spinning around the tightly confined space.
The rhythm section, made up of Cajigas and and Nico Renzoulli on the drums provided heartbeat-altering beats and dance-y undertones to the otherwise dark playlist.
During their set they played some new songs that were released on Tuesday. Among those new songs were catchy beats and songs with  heavier pop-influence.
At this show, like many before it, the band was raising funds to donate to the American Civil Liberties Union (ACLU), an organization the band feels passionate about.
"We try to stick with things that are more ingrained in music and also charity because we're a band and that's what we do," said band manager Ashley Sousa. "But the boys all really like to give back when they can and do things like that."
Last night the band dedicated everything made from merchandise sales and tips along with anything else that was collected at the door to the ACLU.
"Obviously we don't have the largest platform in the world yet, but especially as our platform is growing we want to make sure that we're doing things to kind of give back because while this is really cool for us and we love that people come out and support us. We also want to support the community that we're a part of," said Sousa.