Disabled activists protest for personal care
A national community that formulates disability rights activists to withstand in nonviolent direct action, ADAPT, fought to restore their personal care attendant (PCA) program outside of the John W. McCormack Building on Tuesday.
ADAPT's main goal is to allow people with disabilities to remain in their homes and away from expensive institutions and nursing homes. ADAPT encourages the Commonwealth of Massachusetts to fully fund PCA's over-time costs and allow them to work up to 66 hours per week, put the Community First Choice Option into play and secure $90 million in federal funds, and endorse the Disability Integration Act which allows community-based services to be implemented in people's individual homes.
More than 200 disabled activists raided the 11th floor of the building in order to obtain a meeting with the executive officers of health and human services.
Spokesperson for Massachusetts State Police, Dave Procopio said in an interview with The Suffolk Journal on Tuesday night, "As the afternoon wore on, more protesters arrived, it started to grow, and they started to fill the lobby and block the entrance. They refused to leave the 11th floor, blocking some elevators, because it was a safety hazard we had to ask them to leave numerous times."
On Tuesday, the activists started their protest around 1:00p.m. and ended around 7:00p.m..
"It just shows you what we will do to make sure our needs are met," said a point person for ADAPT's media, Priya Penner.
People with disabilities are stood up to protect their PCA's.
A member of the National ADAPT from Brighton, Massachusetts, Olivia Richard, spoke with The Suffolk Journal during the protest Monday night about the work of PCA's.
"These are folks that are amazing people," she said. " I mean, I'm sorry, but we had to fight for these people to get $15 an hour. Would you be paid $15 an hour to dis-impact someone's fecal impaction? Would you be pai d $15 an hour to clean up someone's vomit?"
Richard's PCA was not present at the protest, but was waiting to care for her back at the hotel.
"I don't bring her to actions because I don't want to expose her to that risk," said Richard. " I am willing to put my life on the line, so she can have a better one."
Richard and "200 of [her] homies" gathered in Boston in the hopes to reap the attention of Secretary Marylou Sudders and Governor Charlie Baker.
Bruce Darling, an organizer with ADAPT, said, "[Secretary Sudders was] unwilling to give us the number where they stand, and what they are willing to do. We are hoping that the Governor [Charlie Baker] will listen to reason and turn this entire thing around by working with the disability community to fund the overt time."   
Disabled activists said they will continue to fight for their individual homes and community based services in hopes to bring necessary overtime funds for the PCA program.
Go to adapt.org to find out more information about ADAPT and follow the activists.
View Comments (1)
About the Contributor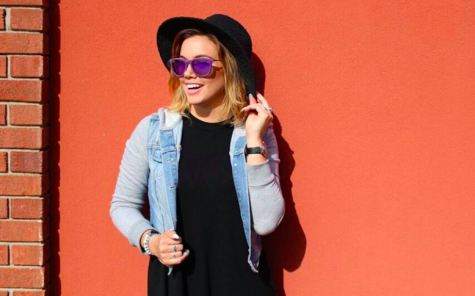 Brooke Patterson, Past Sports Editor
As a senior majoring in Journalism Print/Web, Brooke Patterson strives to not only bring a positive light to her stories, but also those around her. Despite the fact that her sports career has ended, Patterson remains involved with her love for athletics through The Suffolk Journal as the Sports Editor. She is currently exploring life in the city of Boston and will never hesitate to stop to pet a dog as they walk by her. Although Boston will forever be her home, Patterson hopes to explore and use her degree in other cities, such as New York and Los Angeles.