Royal subjects: Local fashion brand joins ArtWeek to give back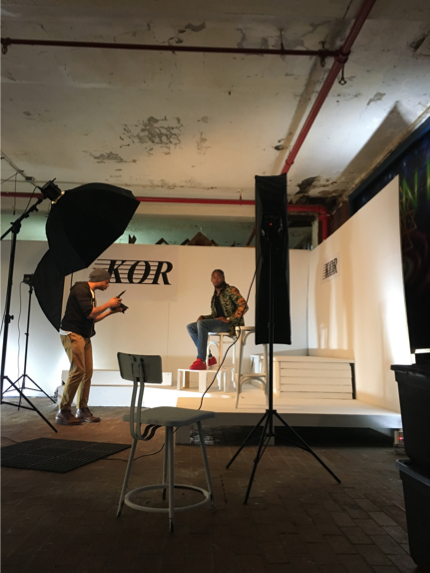 Everyone has their own kingdom. Some people find it in music or literature, others in science or technology.
At Inner Sanctum we are reminded of the power that all art potentially holds. Located in Roxbury, Mass. the Inner Sanctum is an unconventional venue that facilitates creativity and hosts a number of known and unknown artists in all different mediums such as music, art and fashion. Their mission is not only to highlight the power of creativity but also to establish a comfortable environment for the artists and the audience.They donate 20 percent of all funds raised from their events to Boston Public Schools.
On Sept. 30, local fashion brand Kingdom of Royal (KOR) continued the tradition of giving back to the community by holding a live photo-shoot at the venue as part of Boston's ArtWeek.
In an interview with The Suffolk Journal, Dante Miller, a visual and literary artist who was featured at Inner Sanctum described it as a very down to earth place, open to all sorts of artists at all different levels, which is very hard to find in the city of Boston.
"Being accepted for what we create, that's what it's all about. This place, Inner Sanctum, is our gateway," said Miller.
In an interview with The Journal, Eric Lawrence, the CEO of Kingdom of Royal, explained that he had been dabbling in graphic design in high school, until he dropped out in 2010 to find his way in life. He said he found his way to KOR in hopes of mixing creativity with business to inspire both himself and others.
This was the second live-shoot that Kingdom of Royal has held, and it was quite the success. Many people from all around Massachusetts came to watch the process that is behind fashion, with both professional photographers and models involved. Lawrence explained that the reasons they do live-shoots is because "they have the power of getting people to interact with the art, as well as learn more about our brand."
At the time, Inner Sanctum was also promoting other artists, as well, such as Dante Miller and Rashad Berryman.
The next step for KOR is to purchase a storefront, and then spread outside of Boston, with the hopes to eventually go international.
"We want to make a stamp on the world, not only by creating lines of fashion, but in spreading creativity," said Lawrence. "We want people to find their own kingdom. Art is a journey through life."   
Inner Sanctum, Kingdom of Royal, Dante Miller, and more are here to help guide us.
To find out more information KOR's website is  www.kingdomofroyal.com/. Inner Sanctum is located on 18 Palmer St. in Roxbury, and their website is http://www.innercitysanctuary.org/.
About the Contributor
Kendra Huber, Staff Writer
Though unsure of what to do with her life, Kendra, enjoys the aspect of spontaneity that has become a frequent theme in her life here at Boston. She loves exploring new things, and meeting new people, especially if they have pets. As an English major at Suffolk, Kendra has learned so much that both the University and Boston has to offer. Frequently writing for the arts column, Kendra loves music, theater, art, dance, poetry, and especially food.

In the future, she hopes to travel the world and write, and is currently considering teaching English as a second language in foreign countries.