Coco comes to life at Boston Fashion Week
Roche Bobois isn't the typical fashion show runway, rather, a high-end, home-furniture chain that specializes in contemporary pieces from international designers in the center of Downtown Boston. The ambience set the tone on Sunday during Boston Fashion Week for wardrobe stylists such as Patrice Vinci Salon and Team Artist Representative in order to generate energy for models to display the look of the season.
Gabrielle Bonheur "Coco" Chanel is commonly known for her incredible French fashion design. "What Would Coco Wear?" was just one of the of the platforms during the week-long event that began on Friday, Sept. 23.
The session was an informal fashion show, so rather than strut down a traditional runway, the girls would take a turn around the venue itself and pose for guests. After the models had their time inside the furniture store, they went outside to continue their strut down a red carpet. Following their red carpet debut, the models followed one another back inside, and performed a quick change. They did this several times, all while maintaining proper poise and grace.
With a woman-dominated audience and few men strewed across the venue observing and taking photos, the ages ranged from preteens and up. From fashion enthusiasts to high-end designers, the crowd also included honored mothers proudly looking onto their daughters as they glowed on the runway.
For Meghan Nelligan, 15, the Coco breakout served as her first fashion show as a model.
"This has been her lifelong dream," said mother Dianne Nelligan in an interview with The Suffolk Journal on Sunday.
Strutting alongside the 15-year-old model was 16-year-old Avery Gains.
"Avery was first scouted for modeling at age 11," said mother Lynne Gains as she also expressed her excitement when she had learned that her daughter was able to keep the designer shoes that she was strutting in.
The designers did away with the heels to pair with skirts and dresses, and instead, sported dazzling sneakers for the modern Coco-inspired outfits. In addition to the high-fashion designs, a number of business and street casual looks were displayed as well.
Designers wanted to display versatility with their styles. Although the main aspect of the event was the modern look of Coco, the ambidexterity was something that the designers were eager to show off to their guests. Often times, the audience would be presented with an item of clothing that was a part of more than one outfit. Whether it was shoes, purses or even some skirts, articles of each model's wardrobe were used in different outfits in order to pursue practical styles.
One of the final pieces a model wore was a direct tribute to Chanel herself. The model had on a bright red crew sweatshirt and on the back it read "COCO," while on the front it had the famous Coco Chanel logo enlarged. The model also wore a black tulle skirt and a statement pearl necklace around her neck to complete the look-– the pearls serving as a tribute in the collection to Coco herself, who was rarely seen without an abundance of costume jewelry.
There is nothing like a fashion show that promotes urban, young, and fresh designs. If Coco were here to have seen this she would do nothing but praise Boston for the incredible and accurate depiction of her fashion design.
Leave a Comment
About the Contributor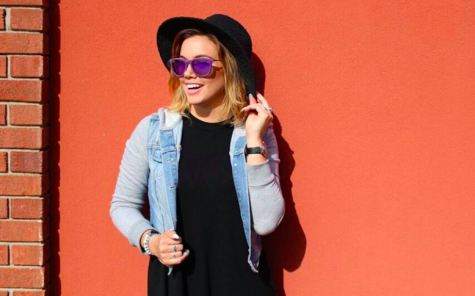 Brooke Patterson, Past Sports Editor
As a senior majoring in Journalism Print/Web, Brooke Patterson strives to not only bring a positive light to her stories, but also those around her. Despite the fact that her sports career has ended, Patterson remains involved with her love for athletics through The Suffolk Journal as the Sports Editor. She is currently exploring life in the city of Boston and will never hesitate to stop to pet a dog as they walk by her. Although Boston will forever be her home, Patterson hopes to explore and use her degree in other cities, such as New York and Los Angeles.