'Megacities Asia'
How bamboo, silver cups and rubble immersed in constant motion reconciles sprawling Asian population at the MFA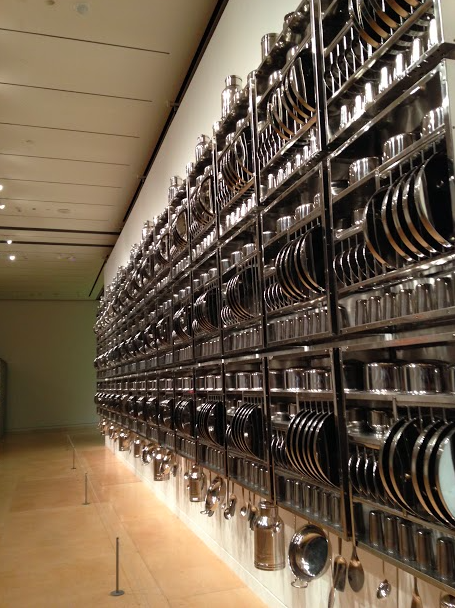 Stories accumulate like pollution in big cities. Stories of lives untold, laughs never shared and events never spoken of.
Twenty-four digital screen panels reflect the faces of the eleven artists who contributed to the 19-piece exhibit, "Megacities Asia," at the Museum of Fine Arts in Boston.
A "megacity" refers to a city with the population of 10 million or more, and in 1960, the only megacities that were currently sustainable were New York City and Tokyo, Japan. Now, there are nearly 30 across five continents.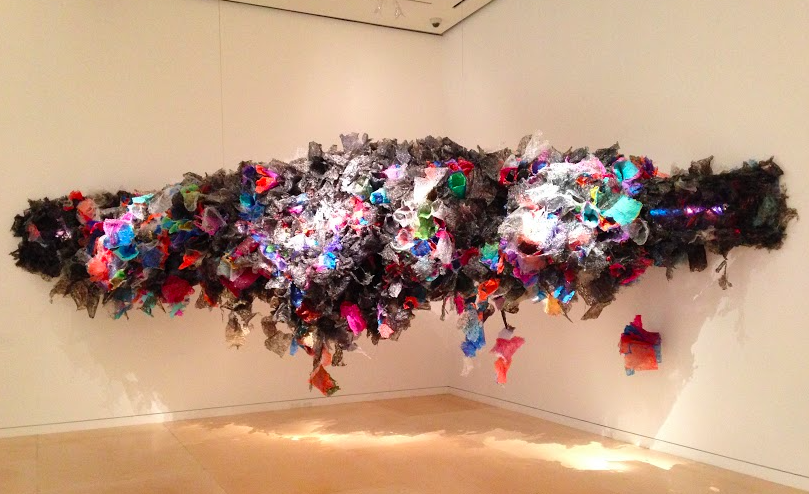 The exhibit which was featured mainly in the Gund Gallery sprawls a wall-to-wall map of Asia featuring cities from Beijing to Shanghai, Delhi, Mumbai and Seoul, each marked within two concentric rings: the innermost ring representing the population in 1960 and the outer in 2014, showing the six fold exponential growth of population spanning the last 54 years.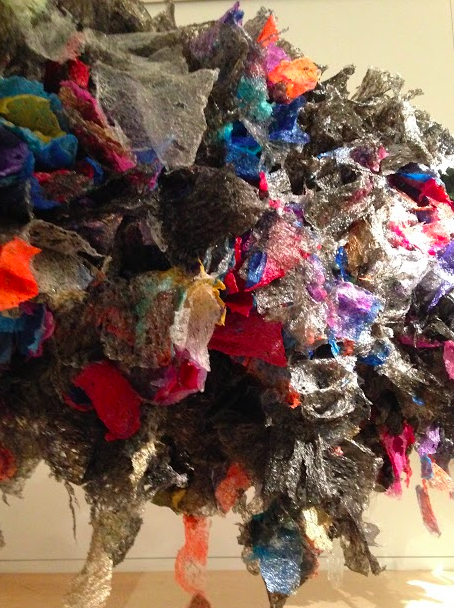 From each of these cities hails an artist featured in the exhibit, each of them bringing a story from their home to share a physical representation.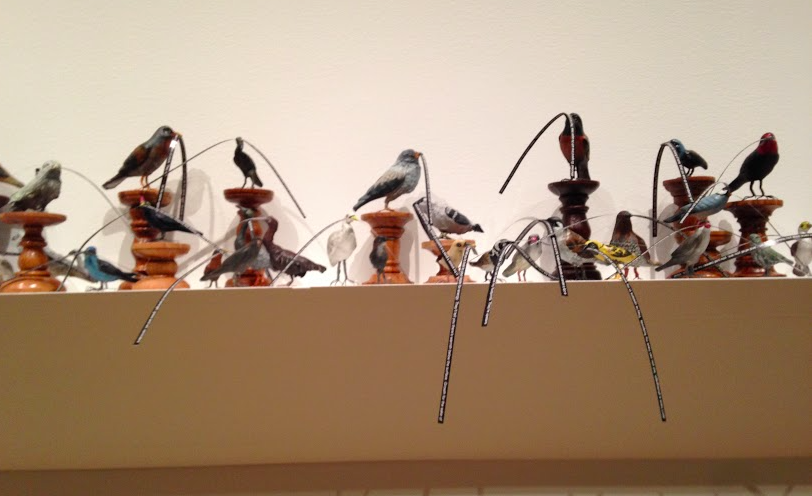 The first piece featured, "Take off your shoes and wash your hands," by Subodh Gupta from Delhi, India is a strong piece consisting of a 27-meter-long, organizing shelving display of 102 pieces of spotless, stainless steel kitchenware. With each shelf consisting of a set-up of plates, cups and canteens with sporadic differences represents the densely packed neighborhoods of Delhi. As a tribute to the traditions of family and home life, the piece credits and regards the importance of meals in the Delhi culture.
Artists like Yin Xiuzhen of Beijing, Asim Waqif of Delhi, and Hema Upadhyay of Mumbai echo the culture and traditions of life at home- a common theme throughout the exhibit. The artist Xiuzhen's piece, "Temperature," was made up of recycled bricks and pieces of clothing from the rubble of demolished houses in her city where many families were forced into eviction due to the property system in China, according to a supplementary informational plaque adjacent to the exhibit.
Waqif created a piece titled, "Venu," which is Hindi for bamboo. In a description of the piece supplied by the MFA, Waqif's interactive art in his words is described as a work "designed to reward people who are curious."
A seemingly misshapen creation of rickety bamboo, cotton, jute rope and tar stands his piece on an all black blackground, capturing people from afar. Inside the interactive hut-like structure dangle ropes from the ceiling like vines in a jungle. Structured in outdated Delhi, vernacular architecture style, Waqif's impression pushes viewers to consider that if urban sustainability marries local materials like bamboo, with international building methods like concrete and steel, the traditions of home can be carried out.
Perhaps one of the biggest stars is the late Hema Upadhyay, who is featured twice in the Gund Gallery with the pieces "8 x 12" and "Build me a nest so I can rest," both emphasizing the traditions of home and family. In "8 x 12," a visual representation of the living situation of rural "slum" Mumbai is shown, using similar building materials of houses of Indian neighborhoods within dimensions of an average living space, according to the MFA. Missing it's fourth wall, it allows visitors to experience the tightness of the quarters while observing a bird's-eye view of how densely packed these neighborhoods are. By using these materials she shows not only the economic status of most of these people but the richness of the culture and diversity these people have to offer.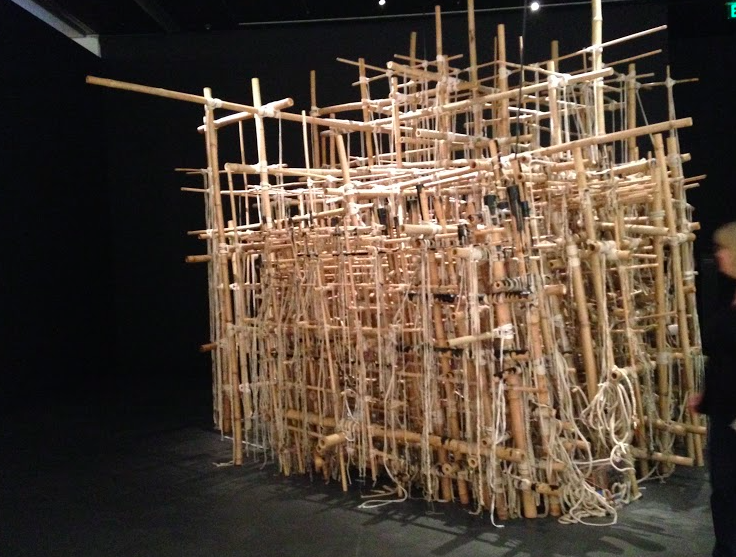 However, it is Upadhyay's piece, "Build me a nest," that is truly inspiring. Comprised of 300 small handmade clay birds, all of which represent a different migratory species to reflect her family's migration during the 1947 Partition of India, according to the artist in a statement provided by the MFA. Each of the birds holds a quote in it's beak which offers words of hope and inspiration. This work speaks volumes with regard to today's current immigrant and refugee crises that happen all across the world.
These 19 works hold 19 stories of lives untold. Through the power of visual stimulation, "Megacities Asia" evokes feelings of awe and sympathy.
Megacities will be open to the public and running until July 17. Students get in for free with a school ID.
Leave a Comment
About the Contributor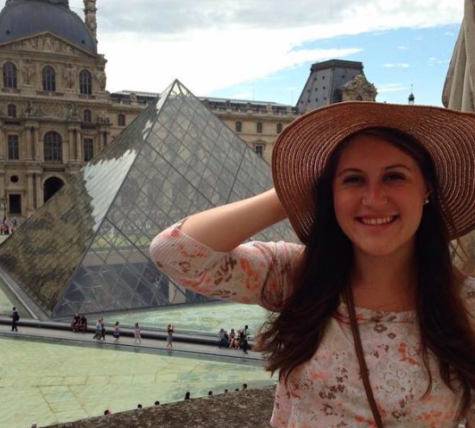 Felicity Otterbein, Past Arts Editor
As a member of the Best Friends of Friendly's Ice Cream Club, Felicity enjoys not taking life too seriously. She appreciates all walks of life and accepts all those who are willing to share a smile. 
As the Arts Editor, she enjoys uncovering new music and discovering the hidden gems of the Boston and Suffolk arts communities.  She enjoys supporting both her friends and university by attending and reviewing Suffolk-based art by featuring the array of talent that can be found on campus.
She prides herself on her uncanny ability to document every waking moment of her dog, Shadow, and can most always be found with an iced coffee in her hand. If you're looking for her, she's usually at her desk inside of The Journal office watching SNL reruns or galavanting through the Isabella Stewart Gardner Museum.