7 Costumes on a Budget + a Bonus
Alright Halloween, is basically around the corner–29 days to be exact.  I put together a list of 7 costumes that you can make if you're on a college budget, literally waited til the last possible minute, or if you're not sure what to be!
Alright Costume #1:
Lilo, from (Lilo & Stitch)
From experience, this might be the easiest costume I've made/thought of.  All you need is a red dress (you don't care about), or a long red tshirt (got mine from Target for $9), white acrylic or fabric paint, pencil, paper, and paintbrush/sponge.
All you do is trace the dress leave print, and then make a stencil.  Afterwards lay you dress, or red tshirt onto the floor and use the white paint to make the leaf decorations.  This is what my costume ended up looking like:

Okay, costume #2:
Tourist !
So, the tourist in my opinion is the most fun, because you get to carry around a backpack or fanny pack–which is awesome! So what you will need is an Aloha Shirt (floral button down) OR a cool flannel; you'll also need, denim shorts, sneakers or hiking boots, a small backpack or fanny pack, sunglasses, & a baseball cap. (Bonus: if you want you can buy an instant camera for about $10 & snap some cool pics)
If you don't have any of the items above; definitely hit up your friends & ask to borrow any item of clothing–no reason to go buy something if you won't wear it again! So here's what I ended up with:
Here is costume #3:
The Grady Sisters (for 2 people)
So here's a creepy one–For the Grady Sisters, you will each need a blue dress, white ribbon, white ankle socks, and black shoes.  If you don't have a blue dress, go the simple route and buy one from Forever 21, H&M, Marshall's, or Primark (shouldn't be more than $15 dollars), and white ribbon can be bought from a CVS pharmacy for $3, for ankle socks & black shoes I would go to WetSeal or Rainbow–REAL CHEAP.
Costume #4:
Fairy/"Social Butterfly"
You can easily put together this costume by buying wings at your local Party City, CVS, or the Garment District!
So what you will need is your wings (which shouldn't be more than $10, & face paint (you can get cheap face paint at a local drug store).  So all you need to do is get any color shirt/bottom OR you can wear a flow-y dress, then put the wings on, and then paint a butterfly on your face (which honestly is not too hard, I'll add a link to a tutorial!).
Also, if you want to do something funny–just dress in a single color, put your wings on & print out most of the social media logos; ta-da you are now a SOCIAL BUTTERFLY !!
Costume #5:
If you are a fan of Breakfast at Tiffany's–stay tuned
What you will need: Black gloves (a little longer than usual), a black dress, black shoes, pearl jewelry, a FAKE long cigarette; and if you'd like a small tiara.
So the jewelry can be bought at SoGood (located in downtown crossing, wicked cheap) or Primark! The long gloves, can be bought from Party City or a costume store for real cheap (around $7) or you can just wing it and get winter gloves from any retail store!
This is what the costume would look like: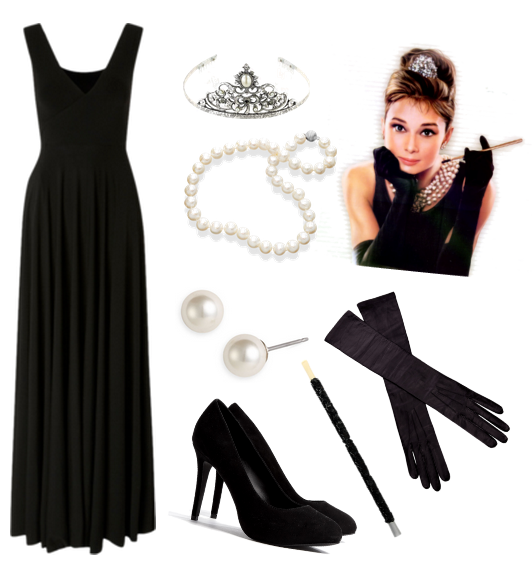 Costume #6:
Alright, so here's one for the guys. If you're a 90s kid, you'll probably remember the cartoon, "Ed, Edd n Eddy's"
So you really could do this with a group, or you could do it alone–if this costume is last minute.
All you need for each character is:
Edd: Orange T-Shirt, Purple shorts, red socks, sneakers, and a black beanie.

Eddy: Yellow collared shirt (you can go thrift-ing, and paint the ends of the t shirt purple), light-wash baggy jeans, red sneakers, and red bandanna.

Ed: A striped red & white T-shirt, green jacket or flannel, baggy jeans, and black sneakers.
So Here is what the costume should look like;
Costume #7:
KE$HA costume
So for KE$HA, it's more of having fun making your outfit, all you need is any type of clothing, you could honestly turn a garbage bag into a dress and cinch it at the waist with a belt or colorful duct tape, you'll need lots of glitter, eye makeup, and bright lipstick.
So if you need help creating a KE$HA outfit, I'll add some pictures of her below.  The glitter should literally be everywhere on your body–you can get glitter at Michael's, they should be no more than $5.
 Then, you want your hair to be messy, and wavy–so I would put your damp hair in a braid, or try to curl your hair then just flip your hair and hairspray it.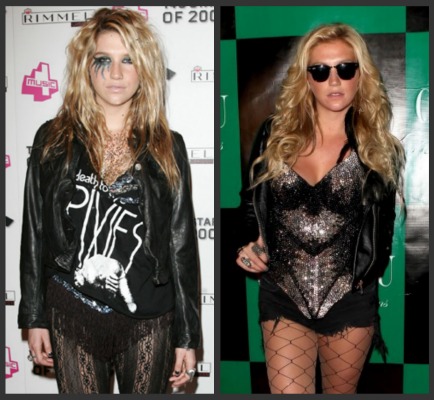 Alright peeps, I hope these costumes help you out a bit, or help you find another costume.  Be sure to follow us on twitter @InstaRamSU  , we will be having a Halloween contest; all you need to do is tweet us wearing your costume the week of Halloween weekend (October 26th to November 1st) WITH THE HASHTAG #InstaBooSU, the contest will end November 1st at 2pm, The prize is going to be $50 on your RamCard, which is awesome!!
Leave a Comment