Panic! discos at Boston City Hall
The finale of Radio 92.9's Summer Concert Series celebrated rock, alternative music, and die-hard fans of Panic! At the Disco at Boston City Hall on Thursday.
Las Vegas based rock band PATD, fronted by lead singer Brendon Urie, was formed in 2004 when they released the song, "I Write Sins Not Tragedies," which is still one of their most popular songs.
Although the band is closing in on their 11th year together, they continue to bring the same youthful energy they had when they began, apparent in their new euphoric single, "Hallelujah."
"I grew up very religious, I was part of the Mormon faith," Urie said in a pre-show interview with 92.9,  "I don't consider myself anymore at all, but spirituality, kind of takes different forms for me. When I'm playing a gig, there's a lot of spiritual moments where I start to get choked up, it was kind of just a send-off to my fans," he said.
Despite the punky attire that consists of brightly colored hair, flannel, and converse, the diverse crowd at the concert was an indication of the band's ability to still reach rock lovers of all ages.
The rock band kept the crowd's stamina going throughout the night by spreading out hit songs within the set list such as, "This is Gospel," "Nine in the Afternoon," and "Miss Jackson."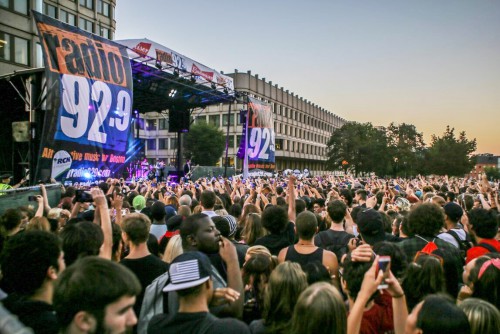 Urie addressed any teenage smokers in the crowd at one point by joking, "This song is about the dangers of smoking cigarettes, kids," before playing their song, "Nicotine."
The band also sang songs by other artists, such as, "You Shook Me All Night Long," by AC/DC and "Bohemian Rhapsody," by Queen, adding to the general sense of community and excitement over rock and alternative music as a genre. Urie's impressive vocal range provided a new twist on the classic rock songs while still staying true to the legends who originally performed them.
The band performed for about an hour, but the highlight of the show seemed to be at the very end when they played, "I Write Sins Not Tragedies." 11 years since its release, the song is still a successful fan-favorite, and may even be the glue that holds all the generations of fans.
For someone who went to the concert as an observer more than a fan, it felt special to be witnessing fans of all ages dancing and singing their hearts out to the same songs. Of all the concerts I've been to, the crowds at rock concerts have always been my favorite. There's always an overwhelming sense of togetherness and passion, as if for a few hours everyone has become connected as they share this experience together.
Panic! at the Disco is reported to be releasing their fifth studio album in the coming months. There has not been much detail released about the album, but Urie told 92.9 that is has a "party vibe."
The band's latest album, "Too Weird to Live, Too Rare To  Die!," can be found on iTunes.
Leave a Comment
About the Contributor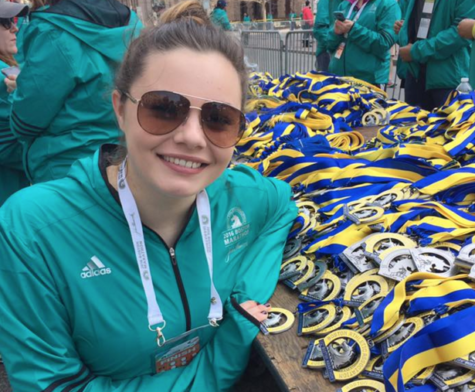 Katie Dugan, Assistant Opinion Editor
Born in Manchester, New Hampshire, Katie Dugan is a recent graduate of 2017 who majored in public relations. She lists among her many non-academic accomplishments successfully raising her pet, a beta fish named Moses and greeting the nations first sunrise on two occasions on top of Cadillac mountain in Maine's Acadia national park. She enjoys running, especially when the race is over and while she lives to explore her adopted city of Boston, just don't ask her for directions to where anything is. Finally, Katie loves the written word and working for The Suffolk Journal and sees the upcoming administration in Washington DC as an unlimited supply of future content for her columns.