As construction crews continue to work on finishing the interior of Suffolk University's new academic building, 20 Somerset, faculty and staff from the department of communication and journalism had the opportunity to tour the new building, where much of their department will be located in the fall.
Dr. Jane Secci, an associate professor in the department, was especially excited about the new workspace for students. She said she hopes the department will be able to attain special analytics software for public relations students to utilize.
"We have to wait and see how it functions. It's all new, that's the good news," said Secci enthusiastically as she looked around the soon-to-be social media room.
The CJN department will call 20 Somerset its new home. The fourth floor will be split into two sections: one for social media and another for media production.
On the media production side of the floor, there will be a large space where students can work communally on different projects, as well as two private media suites for editing and production. There will also be a workspace dedicated entirely to media production studies, as well as a new equipment storage space.
[nggallery id=25]
Other members of the department expressed their excitement upon seeing their new workspace for the first time.
"I'm really excited for it, it's a nice welcome change. It's a much more communal area than Ridgeway and will help foster relationships between faculty and professors," said Mike DiLoreto, a staff assistant in the CJN department who has worked in the Ridgeway building for the past 10 years.
The social media side of the floor will feature a large room with conference tables designed for advertising, public relations and journalism students to come together and work on projects and assignments.
In addition to the conference and lounge area, the room will also feature a media wall equipped with television screens and stations to engage in social media.
The space will also feature a room dedicated entirely to journalism majors with work stations, televisions and a conference area where students can work in groups.
David Reeder, a professor of video production and digital filmmaking in the department, also expressed his enthusiasm about the new space.
"I like it and I'm looking forward to moving in. It meets our needs as we grow," said Reeder, walking around the new dining facility.
The new space will offer a bright, open area for students to convene and study, as well as provide new office space for both full-time and adjunct CJN faculty. Each of the floors in the building will be color coded, with the CJN department brandishing bright orange and white walls that catch the natural light filtered in through the large windows.
In addition to housing the CJN department, the building will also be home to several other departments from the College of Arts and Sciences. The building will have a total of 10 floors, which will include a full cafeteria, classrooms, and student lounge space on each floor.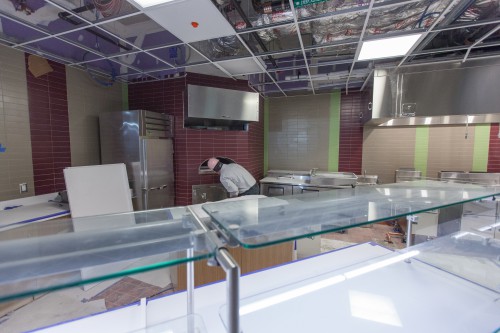 Elevators in Somerset will not be using the touchscreen system that the Sawyer building adopted last fall, according to a member of the construction crew.
The initial floors of the building will house several classrooms as well as three large lecture halls that will seat between 60 and 90 students each. Somerset will also have a large outdoor plaza for students to gather between classes.
Although still tentative, the plaza may also have an outdoor stage where the university and different student organizations can hold events, according to Dr. Bob Rosenthal, chair of the CJN department.
"Picture this two years from now … There is a great opportunity to have more of a campus environment," said Rosenthal enthusiastically in the plaza of 20 Somerset.
The CJN department is set to move into the 20 Somerset building in August.