The Suffolk men's basketball team defeated Endicott in a thrilling Tuesday night playoff matchup by a score of 75-73. A Suffolk-dominated first half quickly turned into a game that went down to the wire, featuring a packed and whited-out themed Ridgeway Gymnasium.
The game started with a balanced back and forth struggle, followed by a Suffolk scoring surge about 5 minutes in. Endicott called a timeout with 13:41 left in the first half with an 18-9 Suffolk lead.
That timeout may have been taken in vain, as Suffolk's offense continued to go to work. Suffolk attained its largest lead of the night of 14 points, with 4 minutes to go in the first half. The Rams kept this margin until there was 2:06 to go in the first.
Powering this offensive surge was junior guard Aidan Sullivan, who was seven assists short of a triple-double, putting up 17 points and 11 rebounds for the Rams. Leading the Rams in scoring was graduate guard Nate Hale, who had 20 points. Hale was recently announced as a first-team All-CCC selection, with Sullivan earning third-team honors. 
Tensions hit a high near the end of the first half when Endicott's Stephen Fama shoved Sullivan back to the ground after he hit a three, which caused him to fall to the court. This was one of several incidents in the first half where players got emotional, earning a response from the crowd. 
Suffolk went into the half with a 42-33 lead on the Gulls, but Suffolk Head Coach Jeff Juron was prepared for an Endicott resurgence.
"The [halftime] message was to keep going. We've played a lot of games against Endicott and they always come down to the stretch no matter what, so we were expecting it to be close," said Juron.
Endicott came out roaring in the second, opening with a 13-4 run including multiple three-pointers, prompting a Suffolk timeout with 16:02 to go in regulation. 
The paint game was a large factor in both facets of the game. Suffolk forwards William Rowe and Jake Gomez tangoed with Endicott's Dillion Grant all night, picking up six and five rebounds respectively. Gomez had a key block with 12:00 remaining that led to Suffolk tying the game.
Aidan Sullivan got the crowd roaring again with an and-one with 7:50 to go, making it 61-56 Suffolk. The crowd continued to follow a back and forth contest, which would finally be tied at 71 with 1:40 left after Suffolk's William Rowe hit consecutive free throws.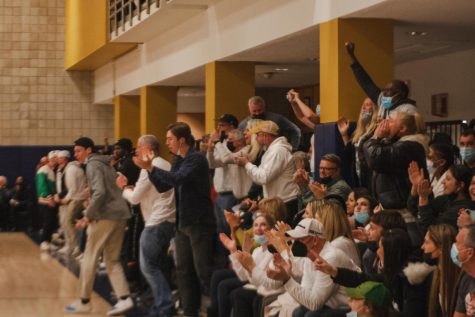 Following a missed offensive opportunity by Endicott, Suffolk's John Gates nailed a pull-up three with a minute left to give Suffolk a three-point lead. 
Endicott made it a one-point game with a layup from Jalen Echevarria. Endicott fouled Sullivan on the next possession, where he missed both shots. 
With six seconds left, and Endicott having possession under their hoop, Suffolk's chances seemed grim. But the Gulls made a fatal error in fouling Keenan Robertson when he grabbed a defensive rebound.
Robertson nailed both free throws, creating the final score of 75-73. 
"If we lost based on my free throws I wouldn't have slept for a week," said Sullivan. "But we came out on top, it was a great win."
Suffolk will face the number one seed Nichols on Thursday night at 7 p.m. in the CCC semifinals. 
Follow JD on Twitter @jdconte617