Cafe Quattro reopening to excitement of alumni
By Amy McAleer
One of Suffolk student's most treasured eateries is making its comeback, but not on Beacon Hill. Cafe Quattro, the Italian-style café that once graced Beacon Hill on Somerset Street next to the Miller dorm, has reopened in the South End after closing in August 2012. Cafe Quattro was a popular hangout for Suffolk students, mostly for their inexpensive pizza.
"It's about time," said Senior Jonathan Stone. "I've been waiting for it to reopen for years."
After an unexpected closure due to issues with their lease in 2012, Cafe Quattro had to be shut down and out of the Somerset location within 30 days, according to a Facebook post at the time.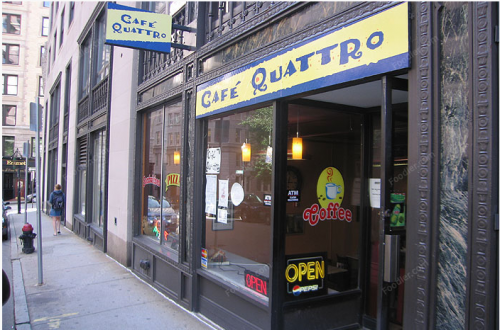 "I was devastated. I went at least once or twice a week," said Suffolk graduate Erica LeBlanc. "We made friends with the employees. The location couldn't have been more perfect."
Cafe Quattro announced on Facebook in October 2014 they would be expecting to open on Harrison Street in the South End in 2015.
With the news of Cafe Quattro's reopening, Suffolk alumni are enthusiastic.
"I am very excited," said graduate Jon Huang. "I would always order the ricotta olive spinach pizza. They would put big chunks of ricotta cheese. It was delicious."
Besides pizza, Cafe Quattro's menu also consisted of sandwiches, paninis, wraps, pasta, and dessert.
"The dessert pizza is what everyone raved about. They would make a Nutella pizza and it was heavenly," said senior Kelly Bogdanski.
Leave a Comment