Rand Paul making the leap to 2016 GOP frontrunner
By Ian Kea
Looking to reclaim the presidency after two terms of Democratic control, Republicans will have a considerable pool of candidates to choose from in 2016. One group is related to former presidents, and others have years of experience as leaders in the GOP. But currently, the only clear-cut candidate who can beat a potential Hillary Clinton-led Democratic ticket is libertarian-minded Kentucky Senator Rand Paul.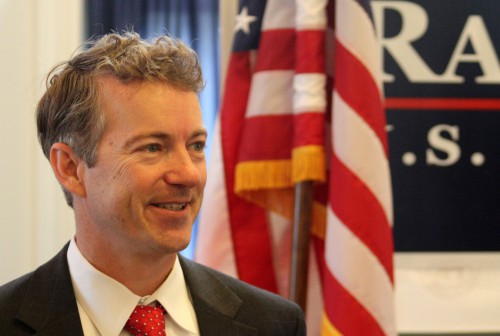 Other major potential candidates for the Republican ticket include Wisconsin Governor Scott Walker, former Florida Governor Jeb Bush, New Jersey Governor Chris Christie, and Florida Senator Marco Rubio, according to Real Clear Politics. Texas Senator Ted Cruz formally announced Monday his plan to run, making him the first high-profile candidate to do so.
Based on an average of 49 polls, Real Clear Politics currently gives the edge to Walker, who is famous among Republicans for his work in passing collective bargaining measures that were not in principle agreement with unions and gave companies an upper hand in collective bargaining. Walker also survived a difficult recall election in 2012 and was reelected in 2014.
The closest form of competition for Walker comes from Governor Christie and Senator Paul. Governor Christie has attracted Republicans from the far- and moderate-right and won a recent Fox News poll for the 2016 GOP presidential candidates. He is the most outspoken of the GOP frontrunners, and during this year's Conservative Political Action Conference said some of his critics "need to be told to sit down and shut up."
Well known for his fiscal conservativeness, he has also been admired by more moderate, libertarian Republicans for signing the New Jersey Compassionate Use Medical Marijuana Act, which made medical marijuana legal in New Jersey.
Paul has been the lead candidate in many CNN polls for the 2016 GOP nomination, and has shown great appeal to young people with his libertarian-style approach to government and its process. He has also shown a willingness to work across the aisle, most recently through his work with New Jersey Democratic Senator Cory Booker on criminal justice reform. Those reforms would reduce both sentences for drug offenses and the number of incarcerated people in the United States, according to the Huffington Post.
Paul seems to bring a youth presence back to the GOP after stating his support for decriminalizing marijuana and tackling privacy issues relating to the National Security Agency, according to Politico and On the Issues. He also attracts the youth vote, of which Obama won 67 percent in 2012, according to Politico. Not only does Paul show poise in front of the grand stage, but he also knows how to woo a crowd unlike Christie and Bush, who were booed during their speeches at CPAC.
Although Paul faces fierce competition against Walker, the Wisconsin governor lacks some credentials like a bachelor's degree, which could cost him votes. Paul offers a balance of fiscal conservatism and moderate stances on social issues, an approach that is desperately needed if Republicans want to take back the White House.
The Republican Party has a lot to figure out before the Iowa Caucus. They will have to be ready to face a Clinton-led democratic ticket. If there is any chance for Republicans to combat Clinton's legacy in 2016, the Republican nominee  has to be Rand Paul.