Sarah Chasse looks to finish softball career strong
When she's on the mound, batters are staring down the barrel of a loaded gun. Sarah Chasse, a senior, is ready to begin her final campaign as the team's resident ace, and captain.
Chasse will be entering her fourth year on the team, but this season is different. It's her last, and she is one of the team's two seniors, placing much of the leadership on her shoulders. She is prepared to spend the vast majority of her playing time on the mound, but is always ready to play the field if need be.
"I definitely lead by example. I set a tone on the field and I hope the freshman and other underclassmen see that and want to continue that," said Chasse, a business management major. "The underclassmen talk to me. I'm a very approachable person."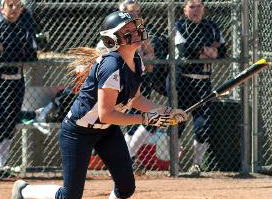 Because of her open and friendly leadership style, Chasse said the team has become a tight-knit group. While beginning the season in Florida, she said the team bonded, which is something the captain considers very important.
After the Rams lost four consecutive games to begin the season, the team bounced back in a big way, rattling off four wins of their own to even out their record. During the winning streak, the team decimated their opposition, outscoring opposing teams 39-2.
"So far, overall, we look very good," said Chasse. "We have a lot of potential, and lots of depth, with people who can play a couple positions. In the beginning of the week, we were struggling. But we got the nerves out towards the end of the week. Everyone was comfortable in the box, and we were able to string together hits."
As for her personal stats, Chasse hopes to improve on what already look like élite level numbers on paper. In six games — 24.1 innings pitched — Chasse owns a 2.59 ERA, allowing just 18 hits and nine earned runs. Though her numbers are strong, one bad outing could skew her statistics and cause her ERA to increase. Despite the rough start, Chasse is already on pace to best her prior numbers.
Last season, Chasse was a workhorse, starting 22 games while logging 144.1 innings. She also posted a 3.25 ERA and struck out 117.
"I'm definitely trying to get my number down," said Chasse. "Especially my hits to innings ratio. And I want to keep my ERA down, too. I'm setting a higher standard since it's my last year."
If Chasse is able to follow through on her goals, that's great news for the Rams, and bad news for opposing offense. In her last three outings, Chasse has surrendered an average of one earned run over seven innings of work.
As for the big picture, expectations are high from the captain. She sees the team competing with the best, and ultimately, having a shot at the GNAC crown.
"Big expectations for this team, because of how we played towards the end of the week in Florida," said Chasse. "I definitely think we can be towards the top of our conference."
The Rams will play Mount Ida in their home opener in a doubleheader on Friday, and will face Rivier twice the following day, playing back-to-back double-headers.
Leave a Comment