By Maria Baluch
The Supreme Court last week heard arguments in a discrimination lawsuit against American retailer Abercrombie & Fitch. The case, brought forth by the Equal Employment Opportunity Commission on behalf of Samantha Elauf, claims A&F wrongfully declined to hire Elauf because she wore a hijab, a headscarf worn by Muslim women as a form of modesty, according to The Washington Post. Elauf applied for the job in 2008 when she was 17 years old, in Tulsa, Oklahoma.
This isn't the first time A&F has had to defend its' "look policy." In September 2013, the company agreed to pay $71,000 in settlements for two religious discrimination lawsuits filed by the EEOC, on behalf of two Muslim girls, according to Politico Magazine. One was fired from her stockroom position for refusing to remove her hijab. The other, like Elauf, was denied a position as an "impact associate" because of her hijab.
Having worked in retail for many years, I completely understand when different retail chains require a certain look to market their brand. But you can only push your "look" so far before crossing the line. And, religious discrimination is violating the boundaries. A retail store, like A&F, should not have a say in how their employees represent themselves when it comes to religion. Their only control should bemaking employees wear the brand's clothing while on the clock.
After working in retail for so long, I've realized that when you are hired, you're given a neatly made package that states the company's policies and how it doesn't discriminate against anyone on how he or she may look. But when you sign on, your manager tells you to adjust your hair color to a "normal" shade, wear certain things that you may not necessarily comply with, and change just about everything about yourself in order to represent the company.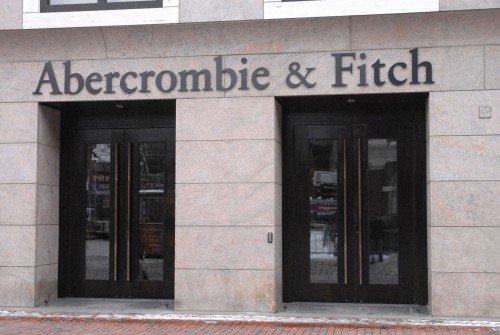 Regardless, in Elauf's case, freedom of religion should be the first point discussed. The First Amendment clearly states that people cannot be prohibited from "freely exercising their religion." Does that notion not matter in the case of a Muslim woman?
The problems A&F has had against women wearing a hijab are yet another prime example of Islamophobia in America. As a Muslim, I don't wear the hijab, but I can tell you first-hand that Muslim women are not oppressed, nor forced to wear the hijab. It is entirely their choice.
The company's alleged discriminations should come as no surprise to anyone, especially after former CEO Mike Jefferies made it quite clear that the brand's image caters to the "cool kids."
"In every school there are the cool and popular kids and then there are the not-so-cool kids. Candidly, we go after the cool kids. We go after the attractive all-American kid with a great attitude and a lot of friends," Jeffries told Salon Magazine in a 2006 interview. "A lot of people don't belong in our clothes and they can't belong. Are we exclusionary? Absolutely. Those companies that are in trouble are trying to target everybody – young, old, fat, skinny. But then you become totally vanilla. You don't alienate anybody but you don't excite anybody, either."
With that one interview, Jefferies has possibly wrecked his company. Unless you're a blonde hair, blue-eyed, all-American boy or girl next door, then you don't fit the brand's image, which could simply be read as code for "white."
Unfortunately, this excludes many young people today. According to the Pew Research Center, millennials are the "most ethnically and racially diverse cohort of youth in the nation's history." By looking at Jefferies, it doesn't seem like he would have been one of the "cool kids" in school either, and that's probably why the 70-year-old is likely so bitter now.
Jefferies' comment about A&F "depicting this wonderful camaraderie, friendship and playfulness that exist in this generation" from that same interview certainly comes across as hypocritical.
This generation has been actively working to accept people for who they are, whether it is their religious beliefs, weight, ethnicity, or even sexual preference.  A&F doesn't represent any of these diversities.